As an architect or designer, you can satisfy your clients' desire for abundant natural light, a sense of openness, and their needs for privacy. The solution lies in stylish glass blocks, glass bricks, or prefabricated glass wall panels.
The world of modern glass block has created a revival in the use and popularity of this highly functional material that became a hallmark of Art Deco and Mid-Century Modern design.
Professionals can create exterior and interior glass walls with glass block products that look stunning and serve practical purposes as well. Glass walls, specifically those made of glass block, offer security, noise reduction, easy maintenance, privacy, energy savings, and "daylighting" — that is, bringing natural daylight into indoor spaces, thereby improving the moods and productivity of those who live in, work in, or use the space.
Hidden Economic Benefits of Glass Walls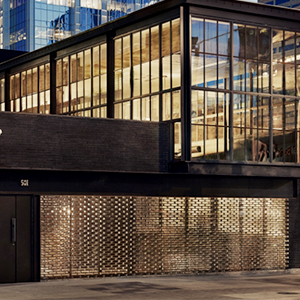 Because budget is a concern for every project, it is important for architects and designers to understand the cost of glass block versus other building materials. Generally, glass block is more expensive than traditional types of windows or glass. However, the design benefits, energy savings, and lifespan of glass block often make it the smarter investment.
Glass Block Walls vs. Glass Walls
While there are many products and types of materials on the market to create glass walls or glass partitions, glass block — whether installed as panels or individually laid, has advantages over other types of wall glass, including tempered glass panes or laminated glass panes.
Certain glass blocks can offer protection against vandalism, break-ins, hurricane and tornado winds, and other threats, versus laminated or tempered glass. A glass block wall will typically last longer and stay new-looking longer than traditional glass and requires less maintenance than other materials. A common question is whether glass block is a structural element. The short answer is no. However, glass block walls, while not load-bearing, are self-supporting.
Create Exciting Exterior Glass Elements with Glass Block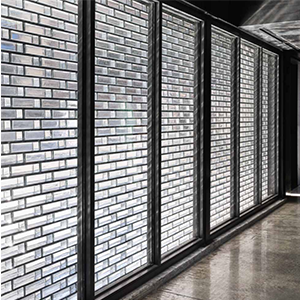 If you specialize in landscape architecture or design, glass block or glass brick can be a visually striking and practical material, especially when it is paired with natural materials such as wood or stone. A glass block wall can create privacy on a deck or patio while still allowing filtered light into the space. Today's glass blocks, glass bricks, and prefabricated products are all about options — color, texture, transparency/translucency levels, so you can add color, and play with light in creative ways and create a truly custom and livable privacy solution for your landscape design client.
Outdoors, glass block can also be used to delineate spaces. Again, it can be alone or as a complement to other materials. Consider, for instance, several courses of multi-colored glass blocks atop a wood outdoor partition that surrounds a restaurant patio or a pool. Glass block also makes an effective and attractive surround for outdoor showers on pool decks.
GBA has the Right Glass Block for Any Project
When it's time to specify glass block products, architects and designers can select GBA with confidence. With nearly four decades of experience and a culture of innovation, GBA offer the materials professionals turn to time and again:
Glass Block Accent Walls: Prefabricated glass block accent walls can add sophisticated style suggesting the Art Deco, Streamline Moderne, and Mid-Century Modern design styles. Glass block walls are the perfect partition in residential and commercial spaces, offering privacy, yet light and a sense of visual connection, and are completely customizable. The accent walls require no integral framework but panel anchor construction or channel resistant construction. Use our classic hollow glass blocks or choose a contemporary color, size or pattern. These walls are available in fire ratings up to 90 minutes.
Glass Bricks & Glass Brick Accent Walls: Solid glass bricks evoke traditional masonry — but with the luminosity of glass, making for a stunning glass wall. Use glass bricks on their own or mix them with traditional masonry bricks for a richly textured effect. Glass bricks can be laid with traditional masonry methods or by setting them in a metal frame. GBA offers several glass brick sizes, styles, and colors, all of which are easy to install.
Mortarless Glass Block Grid Walls: GBA's innovative mortarless glass block wall grid systems are customizable with hollow glass blocks or solid glass bricks. The metal framework provides none of the visible mullion or grout joints found in traditional glass block or glass brick applications. The framing provides strength for any sized wall.
Composite Precast Concrete Walls: Precast concrete and paver wall panels deliver a contemporary and industrial look of polished concrete in a lightweight wall system. This system makes a perfect contemporary accent wall or room divider. The product is customizable with glass blocks in an array of transparencies, colors, and shapes (round, square, or rectangle). The precast concrete is offered in five standard colors or a custom color of your specification. STC and fire ratings vary by glass choice.
GBA Architectural Products + Services has the largest and most diverse inventory of glass blocks and glass bricks in the U.S. This enables GBA to make both the materials and installation as affordable as possible for customers. Elevate your next project with glass block dividers, partitions, or walls with contemporary glass block products.