GlassWalk™ Glass Stair Treads
Design / Cleaning / Installation / GBA
Ready to take your staircase to the next level and illuminate your space with natural light? Look no further than GBA's GlassWalk™ Stair Treads, a light penetrating glass flooring system. Our pre-engineered system includes a structural 3-ply glass stair tread that is over 1" thick. These glass stair panels can span 56" wide with only 2-sided support. Thanks to a new design, mounting screws are hidden behind the glass stair risers to insure clean installation. Our glass stairs are available for glass stair risers and glass stair landing panels to complete your floating stair tread design.
Much like our structural glass floor system, our glass treads come in a variety of translucent or transparent glass pattern options. Traction frits make glass stair treads an ideal walking surface in any application. Ceramic frits are baked onto the walking surface of the glass stair tread for slip resistance. The treads are set into specially designed support brackets that are made of aluminum with a satin finish. Once installed, the bracket seems to "vanish" and will not obstruct your stairs, creating a floating glass staircase.
With many design options for your glass staircase, you can create breathtaking stairs that are curved, S-shaped, straight, and more. This design allows you to create clean lines and beautiful naturally lit spaces that you never thought were possible. To add even more light to your design, combine glass stair treads with any of our structural walking surfaces to create a glass bridge or walkway. Combining glass stair treads with a structural glass walkway creates a sophisticated, high-end glass design at cost-effective pricing no other manufacturer can beat. Plus, glass stair treads are specially designed to withstand heavy foot traffic to ensure safety and longevity.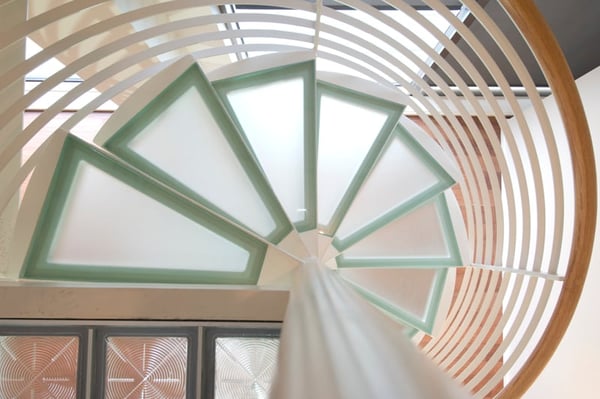 Design Features

+

Options:
Structural Glass Stair Panels
Standard glass (greenish/blue hue) or Low-Iron glass for an ultra-crystal-clear look
Fully transparent, fully translucent or anything in between
Slip Resistant Options:

Traction control ceramic frits, acid etched Walker Textures, or sandblasting offer excellent anti-slip qualities and are perfect for both wet and dry conditions

Clear or Colored Interlayers are available to add a splash of color to your project

Digital Printing or Silk Screening can be applied to your glass to provide a unique feature to your project
Low iron glass is ultra clear in comparison to the standard glass option, which has a lightly greenish-blue hue to the glass. The lower levels of iron in the glass panel is what diminishes the greenish-blue hue. Low iron glass tends to let more natural light in by a small percentage when compared to standard glass. Standard glass has a slightly greenish blue coloring to it because of the iron level left behind by the manufacturer. The greenish blue hue to the glass aids in reducing the clarity of the glass, adding privacy to your stair treads. The color of the standard glass is not obtrusive to your design and is typically noticed when attention is given to the edge of the tread. Regardless of which glass makeup is best for your project, both glass panel types are completely safe, designed to withstand heavy traffic, and have the same high performance levels.
Options for transparency and translucency are available to meet any project design. Glass stairs can be an exciting feature to give the illusion of "walking on air." However, depending on the location of the stairs and the traffic flow, you may want to increase translucency. Translucent glass stair treads still allow an immense amount of light through, but do not show a distinct image of what is on the other side of the glass. In addition to the added privacy of translucent glass, you can also add privacy to a transparent glass stair tread by incorporating a sandblasted finish. Whether transparent or translucent, glass stair treads keep the light moving in any space.
Custom staircases are making a huge splash in home design, whether it be in a home remodel or new build. Custom glass staircases are available upon request, and GBA's design team is eager to work with you to create a safe glass staircase application. Add LED lighting to the glass stair treads to make them seamlessly float all the way up. LED lit stairs are a safe, eco-friendly and versatile solution to elevate any traditional or dark staircase. Lighting can be included into the aluminum framework of this engineered system for a seamless lighting design.
In addition to lighting your glass staircase, using colors or designs within the glass interlayers is another way to further customize your glass treads. We can print company logos or even etch them into the glass treads or landing panels to add an eye-catching design element to your glass stair panels.
It is no surprise that glass can become slippery, and with "slip and fall" accidents being common it is important to install an anti-slip floor. To make glass stair treads safe, slip resistant traction control frit patterns are an important component of any glass flooring system. GBA offers top of the line anti-slip patterns to ensure the safety of your stair treads. In addition to the added safety, our anti-slip textures help reduce electrostatic charges and keep your floors clean. Since the anti-slip texture is on the top layer of the glass, it is non-absorbent to anything dropped or spilled on the surface. This makes it easy to clean and keeps your glass floor and glass stair panels completely healthy and hygienic. There is also an option to add a sandblasted finish to the glass which can help create an anti-slip surface. Sandblasting the glass also allows for additional privacy when looking up through the glass.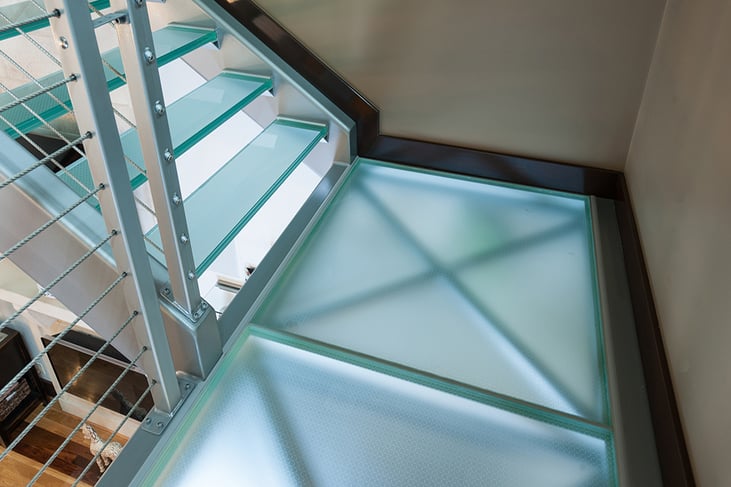 Architectural Grade Aluminum Grid System
6063-T6 aluminum is both light weight and super strong
Framework finishes come in a clear anodized, matte finish
Framework can also be powder coated to match any color to meet your projects
The framework of this glass system is designed to accommodate any project opening. Architectural framework can also be customized to match any custom shape desired in your project. GBA has experience in incorporating spiral framed staircases with our GlassWalk™ glass stair treads application.
Glass Stair Treads Engineering
Fully Engineered and Tested to meet a live load of 125 lbs. per square feet
Stamped engineered drawings are available for all 50 states and Canada
The GlassWalk™ Stair Tread is a pre-engineered system designed to meet your projects specifications and shipped in a kit with all necessary building materials. GBA realize that each project has different needs, which is why we can design project specific drawings to ensure your glass staircase is capable of handling the desired load. These drawings and specifications are also constructed to ensure that installation is as seamless as possible.
Cleaning a Glass Staircase
Like any part of your home, it is important to keep the surfaces of your glass staircase well maintained and free from residue. Use a mild, non-alkaline detergent free of abrasives or polishing agents. Residue left on the glass may scratch the surface or leave your stair treads looking patchy, especially on a sandblasted or satin etched glass surface. Wipe the wet glass with a soft cloth mop or squeegee to remove any streaks that may form during the cleaning process. If this does not remove all of the residue from your stairs, a solution of 50/50 water and isopropyl alcohol can be used with a soft cloth to wipe down the remaining dirt. When scrubbing the surface, only use a moderate amount of force to prevent any damage or scratching to the glass surface. If you desire to vacuum your glass floor, be sure that your vacuum has a smooth bottom surface that will not scratch the glass. Otherwise we recommend using a soft bristle broom to prevent the build-up of small or large dirt particles.
The aluminum grid also needs to be cleaned and maintained. The clear anodized finish on the aluminum framing grid provided by GBA will resist airborne dirt and allows for periodic cleaning with water to maintain a clean surface. Whatever you do, do not use paint removers or abrasive, solvent type cleaners on the grid. This could potentially dull or fully remove the finish. For stains that water and a cloth cannot remove, we recommend using a gentle detergent soap. A rag, sponge, or soft bristle brush is acceptable with gentle force to continue cleaning your aluminum grid. Regular maintenance and cleaning of the aluminum grid and the structural glass stair treads will preserve its beauty and strength for years.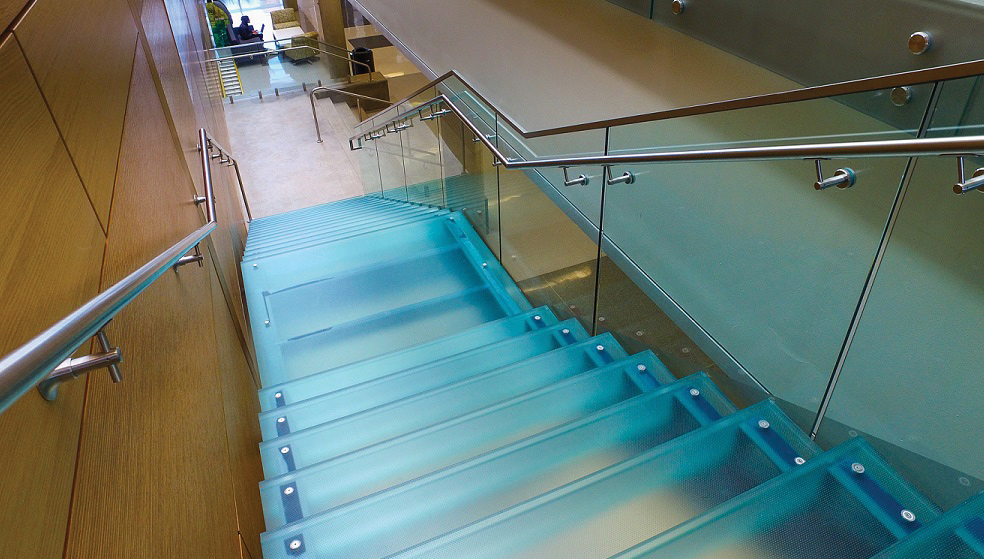 Glass Staircase Installation
Staircases can be incredibly difficult to install correctly, and even more difficult when using a non-traditional building material. GBA is a certified installer of GlassWalk™ Stair Treads and has installed hundreds across the United States. However, if you have a contractor to install them for you, we will provide specifications and drawings designed for your project. GBA will send all necessary building materials precut, specific to your project, to you in an easy installation kit. Similar to our structural glass floor system installation, it is important to have all the structural components including the support brackets, glass stair units, and/or a vertical glass riser, depending on design. A vertical riser would not be included if the design intent was to have floating stairs. If your staircase already has landings, we can still incorporate glass stair treads to existing framing for a unique combination look and feel.
When installing a glass staircase, be sure to first prepare your surfaces. Everything should be clean and dry of any oil, grease, old coverings, adhesives, or any other foreign substance. If the surrounding area requires any painting or refinishing, we recommend that it is done prior to the installation of the treads. It may be easier for your design to retouch any painting in the staircase area after the glass stair panels and landings have been installed. For a more detailed installation guide, contact our design team at (877) 280-7700.
Contact GBA Architectural Products + Services
Whether you are a contractor looking for a ready-to-go glass stair kit, a designer looking to create that "wow" feature, or a home owner looking to live luxuriously we are ready to work with you. With the full line of GlassWalk™ Glass Flooring Systems (Structural Glass Flooring, Glass Stair Treads, and Glass Pavers), GBA has the perfect solution for any project. If you'd like to envision what glass floor systems like our glass stair treads and glass floors, we have samples ready to be shipped with our different slip resistant textures. We're committed to bringing your beautiful glass vision to a reality.
Check out the website of GBA Architectural Products + Services for new ideas regarding the installation of durable glass components in your new construction or remodel project. GBA is a proud partner of many prestigious historic renovation projects, too. With our large supply of glass block and structural glass products, we take pride in being able to match or create a glass block to resemble the original design intent. We are constantly completing new, unique glass design projects and adding them to our Project Inspiration page to inspire any architect, contractor, home-owner, designers, or engineer.
GBA Architectural Products + Services installs glass paver vault lights, stairways, structural glass floors and bridges, glass stair treads, deck glass, and even walkable skylights. GBA is also an installer of glass block applications ranging from glass block pavers to glass block systems engineered for security and detention centers, hurricane resistance, fire resistance, blast resistance, and even tornado resistance.
To discuss the possibility and advantages of incorporating GBA Structural Glass flooring or glass stair treads into your new construction or remodel, contact one of the three numbers listed below or contact us to fill out our form.