Precast Concrete and Glass Pavers
For more than 2,000 years, concrete has been used as a predominant building material for its strength and performance. Concrete is still used today as a base-building material but combined with glazing options, it can deliver creative designs paired with functionality. GBA produces precast concrete panels with glass options to shower natural light into spaces below the surface. This product is fully engineered and tested to meet your structural loading requirements. Precast concrete panels and glass pavers are perfect for any walking surface where natural light is desired.
Precast concrete pavers are a great product that recycles light in high-traffic areas. There are six standard colors of concrete available, which makes this product's distinctive strength and beauty a great addition to any walkway or landing. Custom concrete colors are also available. The six standard colors typically match any existing concrete surrounding the panels. The top surface of the concrete can be finished as Sand Blast, Acid Etched, or Light Broom. Concrete and glass paver panels are available in a variety of finish options. Panels can be custom colored, have faux finishes, or be paired with field-applied finishes like wood, tile, and terrazzo. These precast concrete panels have fire resistant and high load-bearing properties.
Precast concrete glass pavers are made of solid glass and are available in both square and round shapes. Square solid glass pavers are offered in 6" and 8" in a clear or sandblast finish. Thick-faced, round half-shell glass pavers are available in 4.5" and 7.5". Similar to the solid square pavers, round pavers are offered in a clear or sandblast finish. Glass pavers can be sandblasted to improve their overall slip resistance. The precast concrete panel's structural framework construction allows for easy replacement of glass pavers without disturbing the integrity of the grid, should one ever break or become damaged. Due to our expertise and historic projects on the rise, GBA offers smaller historic glass pavers to match your restoration project. GBA's expertise in designing, engineering, prefabricating, and installing these panels gives us the advantage against any competition.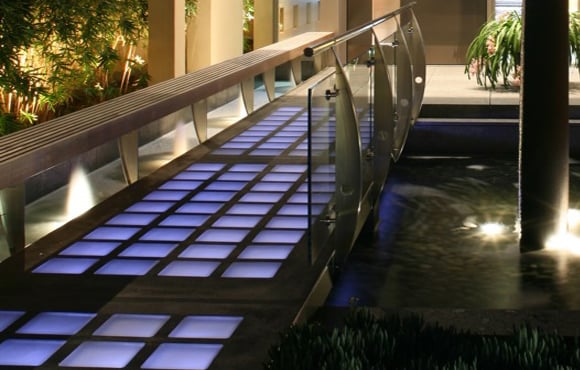 Design Features

+

Options:
Glass paver and precast concrete panel systems allow light to travel through the floor to brighten any space below or create a decorative feature at night as the light shines up from underfoot. Solid or hollow floor glass blocks are manufactured to have a thicker face and are annealed for a longer period of time, increasing the strength of the precast concrete and glass paver sidewalk panels. Our panels can also be recessed to accept field-applied finishes (ex. wood) to seamlessly transition into adjourning materials.
Glass Pavers & Panel Sizes
Glass pavers are available in:

2.75" and 3.5" square (historic pavers)
4.5" and 7.5" round
6" and 8" square
Panels come in a variety of common sizes. Custom shapes, sizes, and configurations are possible to fit any project's design.
Glazing
Glazing options available:

Clear or sandblasted top for an anti-slip walking surface
Sandblasting the glass will allow for overall more slip resistance when walking across the top surface of the glass pavers. Custom faux finishes may also be available.
Concrete Finishes
Six (6) standard colors
Custom colors available to match any project's design
Sand Blast, Acid Etched, or Light Broom finish on the top surface of the concrete
Fully engineered and tested
Stamped engineered drawings are available for all 50 States and Canada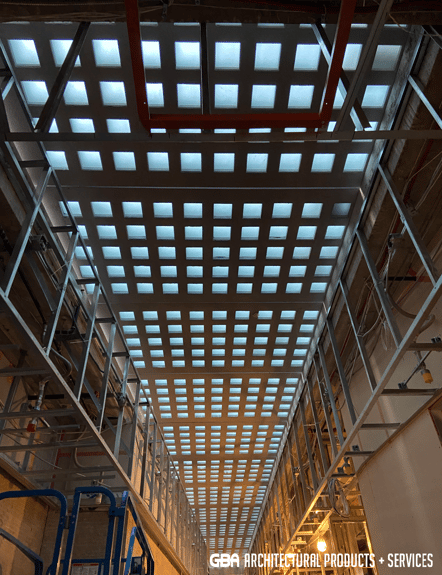 In-process photo of GBA Precast Concrete and Glass Paver Panels at Onni South Lake Union Building located in Seattle, Washington. GBA went on-site to install 12 panels each of varying sizes on the second floor common area. This application of precast concrete and glass pavers utilized a fire resistant glass block, giving the panel system a 2-hour fire rating.
Common Applications:
Glass paver and precast concrete panels are extremely versatile and appropriate for use in all market sectors ranging from commercial offices, cultural centers, government building renovations, mass transit, and more. Below is a list of applications in which our precast concrete and pavers system has been installed. Prefabricated panels allow for a quick and easy installation, with low maintenance in the future. If you don't see your application below, give one of our design experts a call to start working on the design of your dreams.
| | | |
| --- | --- | --- |
| Balconies | Flooring | Stair Treads |
| Barrel Vaults | Lobby Floors | Patios |
| Bridges | Roadways | Walls |
| Canopies | Sidewalks | Windows |
| Deck Lights | Skylights | Vault Lights |
Load Capabilities:
Precast concrete panels are engineered to carry 150 pounds per square foot live load over the course of a 5-foot span. Pre-glazed glass paver and precast concrete panels are engineered to handle high load capabilities. Incredibly strong, these precast concrete panels can even be engineered to withstand vehicular traffic and vehicular traffic loads as high as ASHTO HS20-44.