Glass Block
Glass block is one of the most versatile building products with hundreds of colors, shapes, and sizes to choose from. Glass block also gives designers and architects the ability to bring natural light indoors without sacrificing privacy. By selecting a patterned glass block or even frosting the exterior face of the block, helps to promote an even more private atmosphere. Glass block offers a highly original design made for contemporary architectural projects or any home renovation. Fully customized glass block allows architects and designers to utilize this unique glass application in upcoming projects.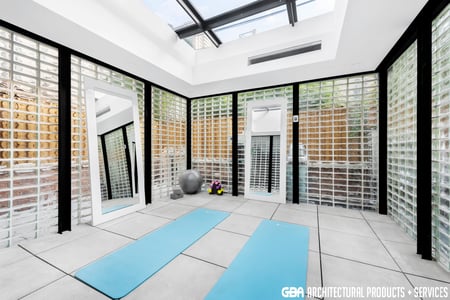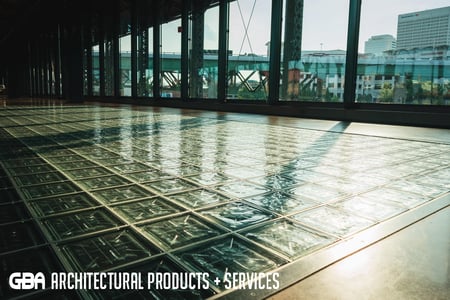 Typical Applications of Glass Block
Glass Block Wall
When designing any building, one of the main things that start to cut up the amount of natural light passing through areas is a wall. Depending on the square footage of the area, artificial lighting will need to be added and the space may only allow for one window. Glass block incorporated into the wall can open a space while still maintaining the desired amount of privacy. Glass block patterns are one of many ways to keep those private areas naturally lit but still having separation from adjoining rooms. Glass block walls can be constructed to be laid with mortar, or in GBA's new design utilizing a mortarless glass block grid system. Our mortarless glass block grids allow for glass blocks or glass bricks to be incorporated and utilizing an integral, metal frame.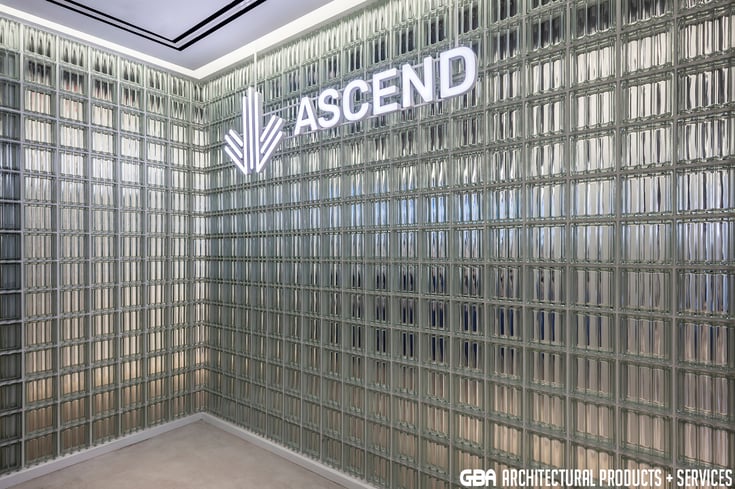 Glass Block Windows
For many decades, glass block has been utilized as residential basement windows. Basement glass block windows are perfect as they are easy to install and tend to be difficult to breach. While it may be easy for a thief or burglar to smash a traditional window, glass block is thicker and much harder to get through. Glass block windows are also great as they can help to seal your basement from flood damage. Since the glass block windows are considered a type of masonry, when installed properly these windows can create strong seals from water. Windows designed with glass block tend to provide greater energy efficiency. Large amounts of natural light pass through the glass block allowing natural light into dark spaces without having to install any traditional lighting. Homeowners are given the choice to select what block they would like to use in their window, allowing them as little or as much privacy and light transparency as desired.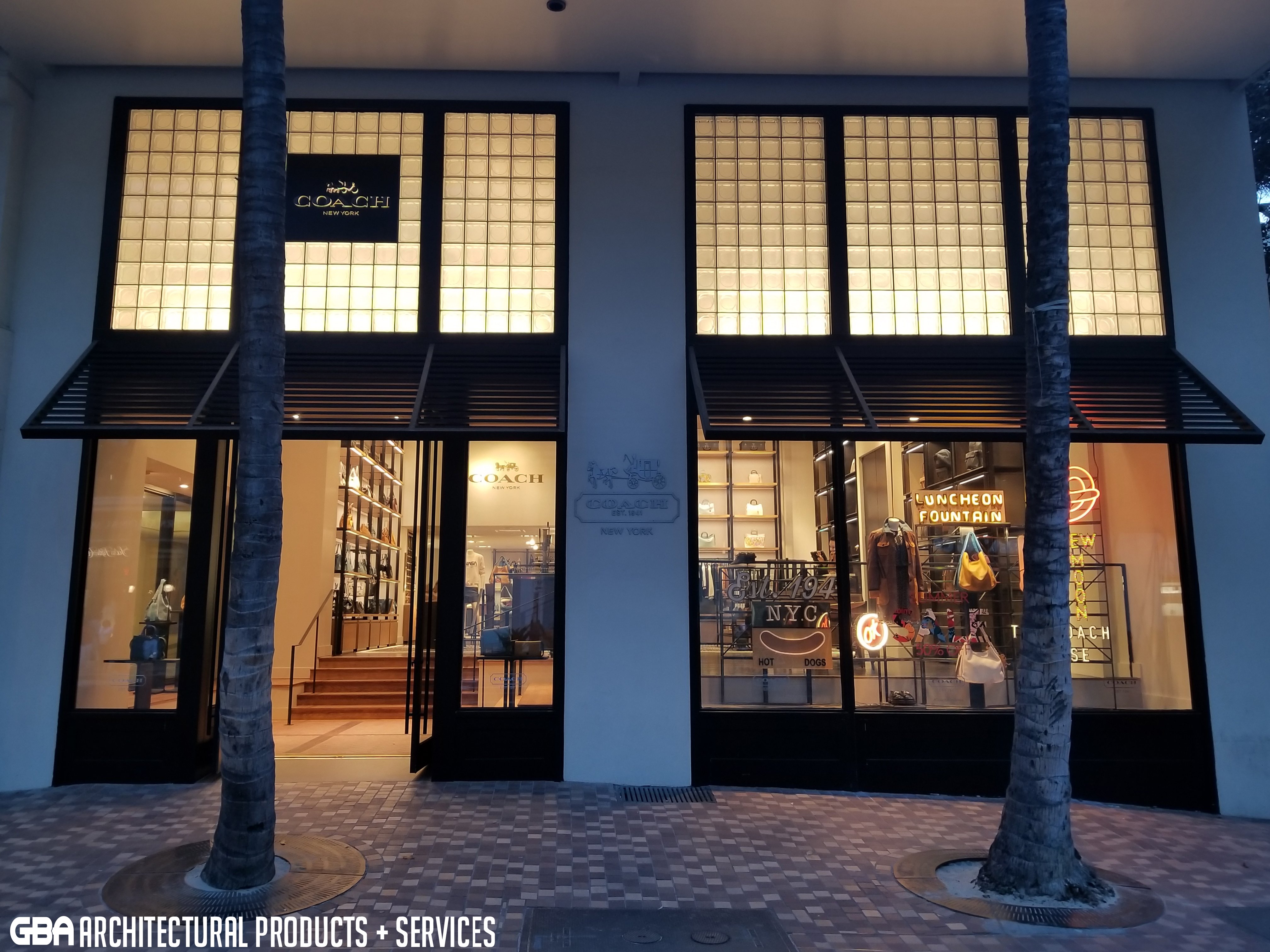 Glass Block Shower
Glass block is also a great application for bathroom or shower walls too. When incorporating glass block into a bathroom application, the possibilities are endless. No other product besides glass block can preserve the privacy a bathroom needs while allowing so much natural light to pass through. Glass block can be incorporated as a window in your bathroom or can be utilized to construct an entire shower. Adding character to your bathroom is made easier with glass blocks as they come in hundreds of patterns and many different colors. Recent architectural trends have brought glass block into their designs for a solution that continuously increases natural light to give depth to small spaces. The addition of glass block in a bathroom, either residential or community, can help elevate the design to create an upscale bathroom design.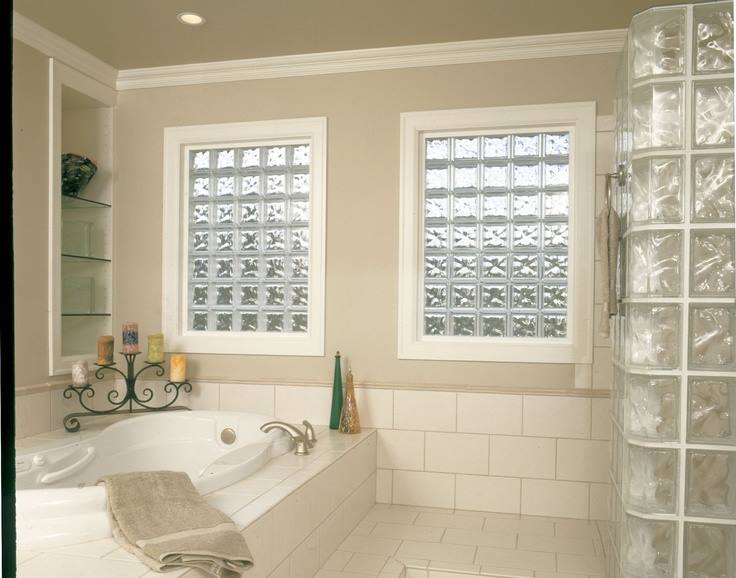 Lighted Glass Block | Lights in Glass Block
One of the easiest ways to customize any glass block wall application is with the integration of lights. The most common is to insert lights into a piece of craft block. Modern applications of glass block have allowed GBA to design an LED lighted glass block panel. Incorporating lights in glass block applications can lead to a more unique design with a sense of ambiance during evening hours. Another way to bring your glass block design to life with lights would be to create pillars and utilizing motion lights, giving a "fountain feeling" as if the light is shooting up through the column.
Deco Glass Block |
Modern Glass Block
Since the crafting of the first glass block, a new wave of more modern glass block options have become available. The traditional glass block has been transformed into an object of design with new color collections, patterns, and even three dimensional glass blocks. These modern glass blocks are perfect in commercial applications, such as offices or stores, as the colors of the blocks can stimulate the brain. Furthermore, incorporating glass block in an office is perfect to maintain privacy between offices and conversations, while allowing more natural light to pour into the adjacent space. Modern styles have allowed architects and designers to use glass block as a dramatic design element creating depth of space and light. Modern glass block options also include a line of bold colors and glass blocks with metalized edges. Glass block has become a great architectural design element for unique, modern designs.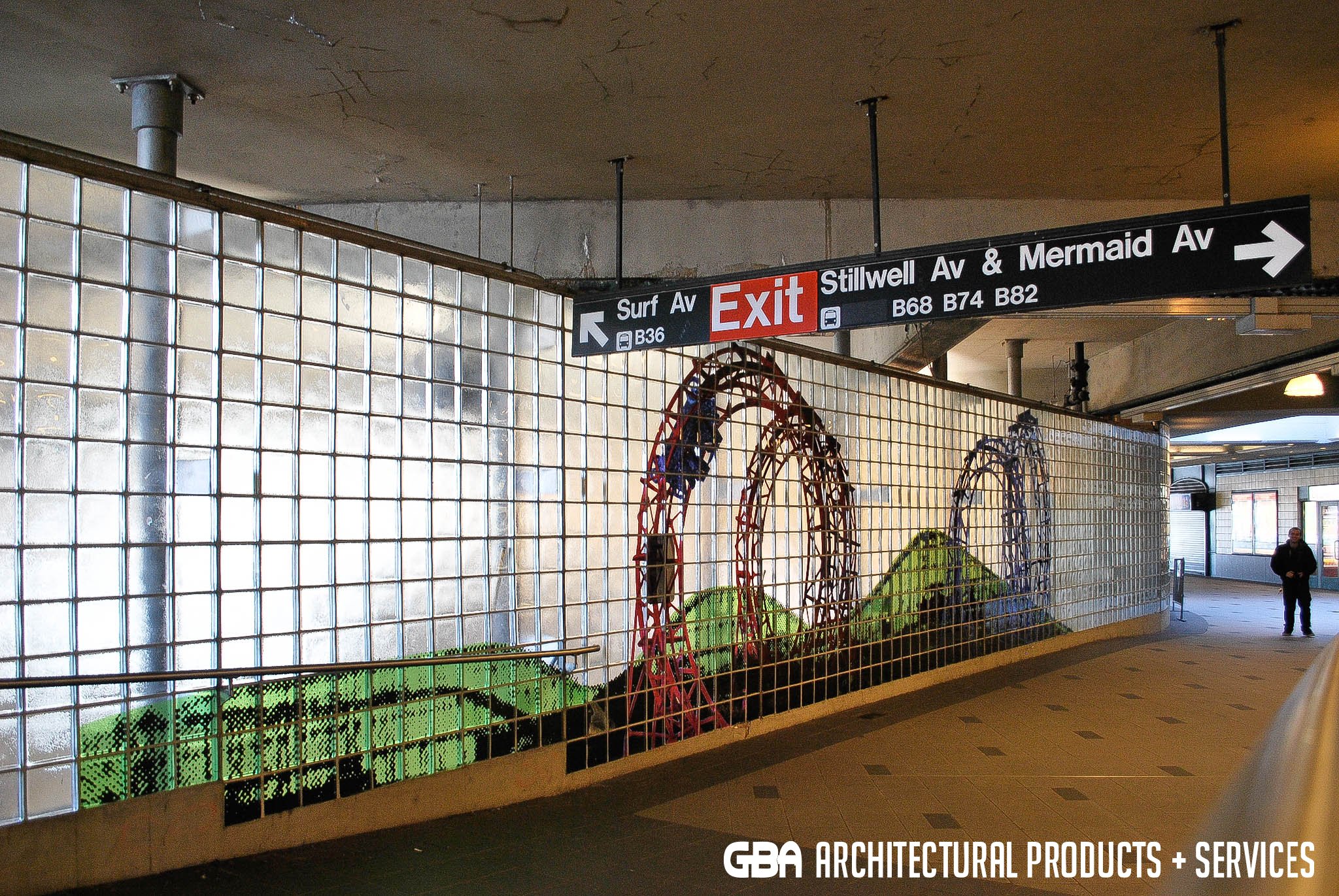 Glass Block for Security or Detention
Prefabricated security and detention glass block windows is engineered for facilities that desire natural light, but have a more crucial need for safety and protection. These engineered glass block windows are fabricated with steel framework and solid glazing making an impenetrable window. Our high performance glazing will help to reduce maintenance costs of the window and will help protect it from scratching. Providing resistance to forced entry or exit, these windows are perfect for police departments, correctional facilities, detention centers, and criminal justice facilities. Security and detention windows are built with VISTABRIK®, the strongest, solid glass block available in sizes of 4" x 8", 6" x 8", or 8" x 8". These threat resistant windows are extremely versatile in the way that they maximize daylighting in any space while maintaining a secure environment.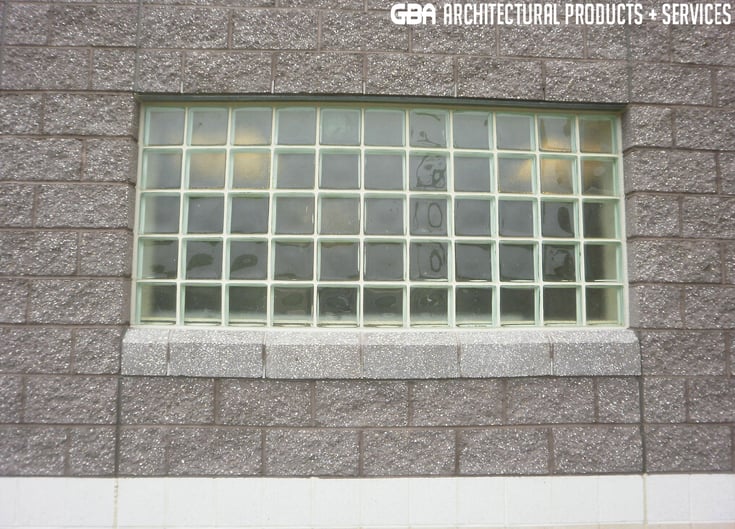 Fire Rated Glass Block
Here at GBA we offer several fire rated options for glass block, including some options of hollow glass block as well as solid glass block and glass bricks. Fire ratings for glass block are as follows: 45-, 60-, and 90-minute fire ratings. Fire rated glass block has the ability to protect people from fire, smoke, and gas. Fire resistant glass blocks are available in three finishes for additional privacy and light control including sand blast on one side, sandblasted on both sides, and transparent.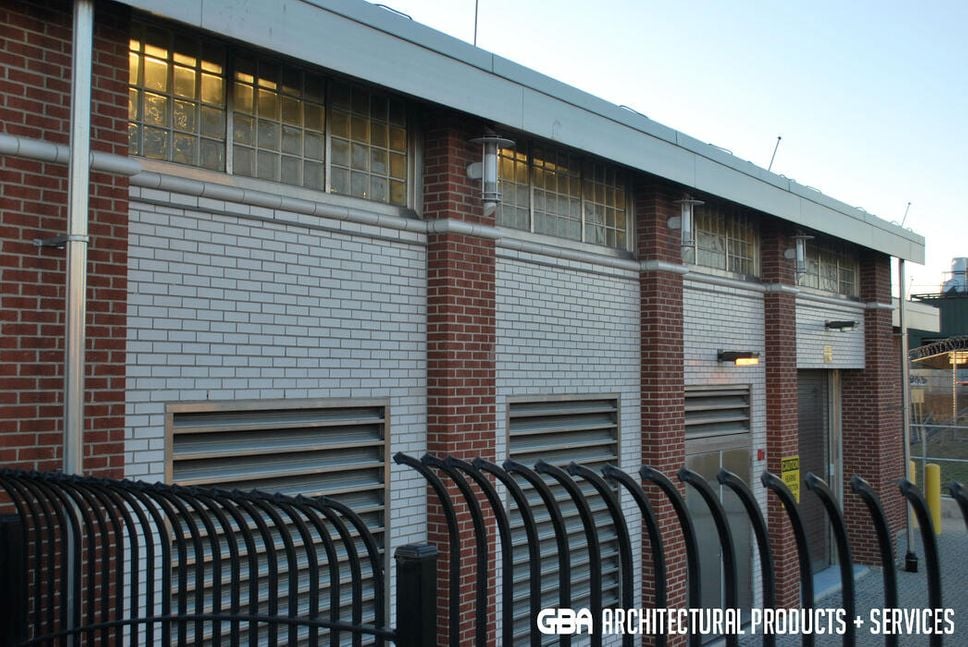 Hurricane Resistant Glass Block
Anyone who lives in an area where hurricanes are a cause for concern understand the power and destruction they bring. Hurricane-force winds are incredibly powerful not only destroying buildings but carrying pieces of them through the wind. When designing a window to be hurricane resistant, they need to be able to withstand the powerful hurricane-force wind and prevent from the flying debris from breaking the glass. These hurricane resistant glass block windows have been designed to meet large missile impact tests, Miami-Dad County Approval, Texas Department of Insurance Approval, and State of Florida Approval codes. These windows are great in schools or commercial applications since they offer a greater security than conventional windows, are graffiti and damage resistant, and have little to no maintenance.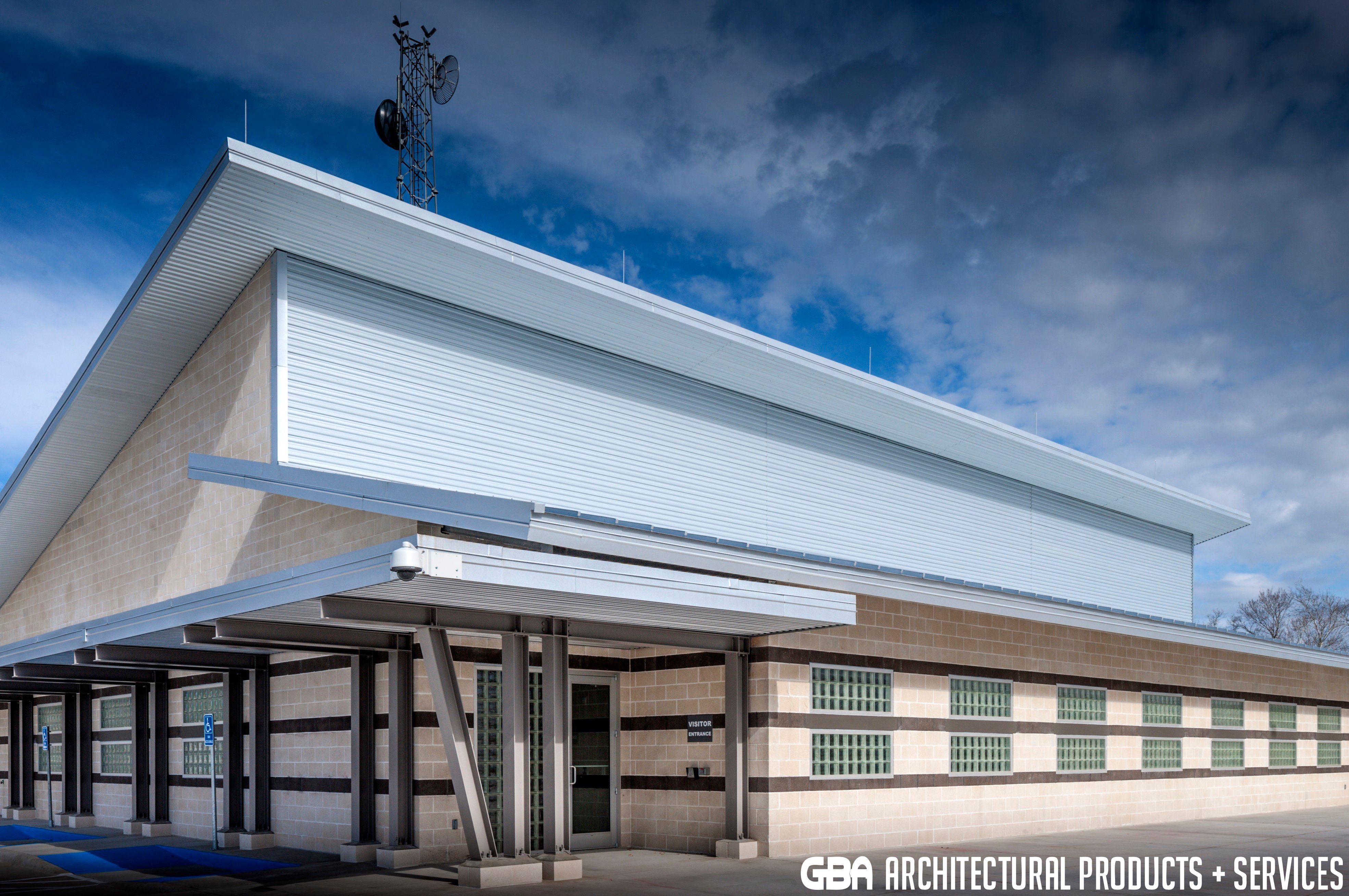 Tornado Resistant Glass Block
Engineered, high-performance tornado resistant glass block is the perfect window for Safe Rooms, Schools, and Shelters. This glass block has been designed to resist wind speeds of 250mph and protect from flying debris. Prefabricated with a steel frame grid and laminated VISTABRIK® solid glass block this window system is not only strong but secure. Tornado resistant glass block windows have been manufactured to meet the following list of standards: ASTM E283, ASTM E330, FEMA 361, FEMA 320, and ICC 500. Contact us for more information regarding tornado resistant glass block.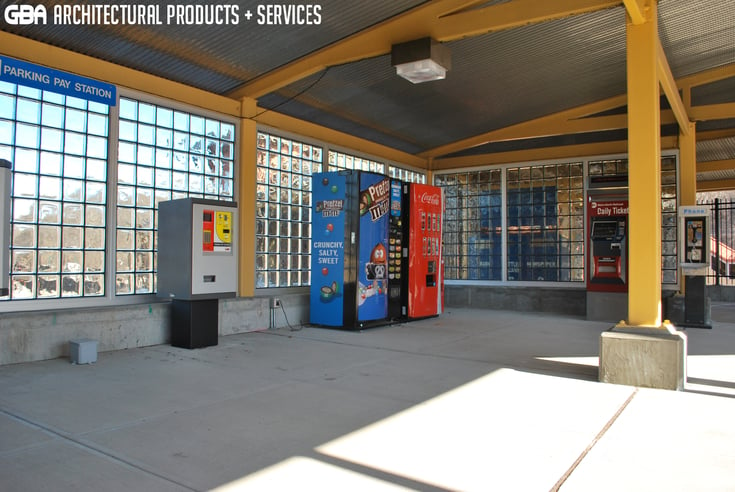 Bullet Resistant Glass Block
As glass block has become engineered to provide protection from natural forces and danger, a bullet resistant glass block was created. A range of patterns are available and can be finished as transparent or sand blasted. Bullet-resistant glass blocks have the ability to have firearm protection up to the FB7 category. This category includes high-powered pistols and rifles used internationally to perform ballistic tests.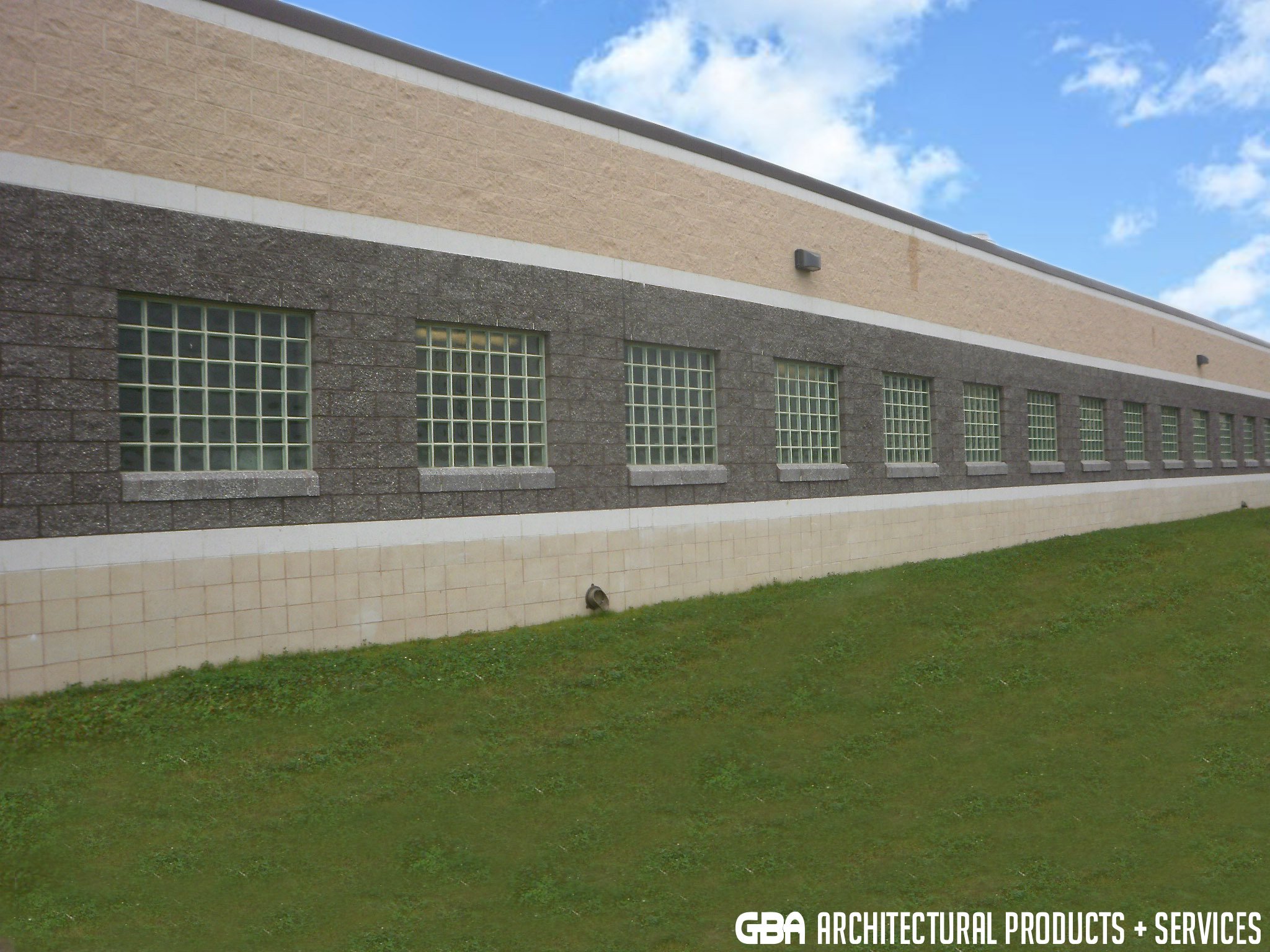 Glass Block
Glass block can be used in so many ways as we have one of the largest US inventories of glass block. Whether it's designing a glass block shower wall, glass block window, or a glass block accent wall, we have the perfect block for you. Glass block has been a popular choice among architects and designers as the glass provides a unique, and sometimes distorted visual. The pattern of a glass block has a great effect on the amount of privacy the window provides, but can be finished in a sand blast to lessen the transparency. Glass block is eco-friendly and functional making it the perfect solutions for homes and commercial spaces.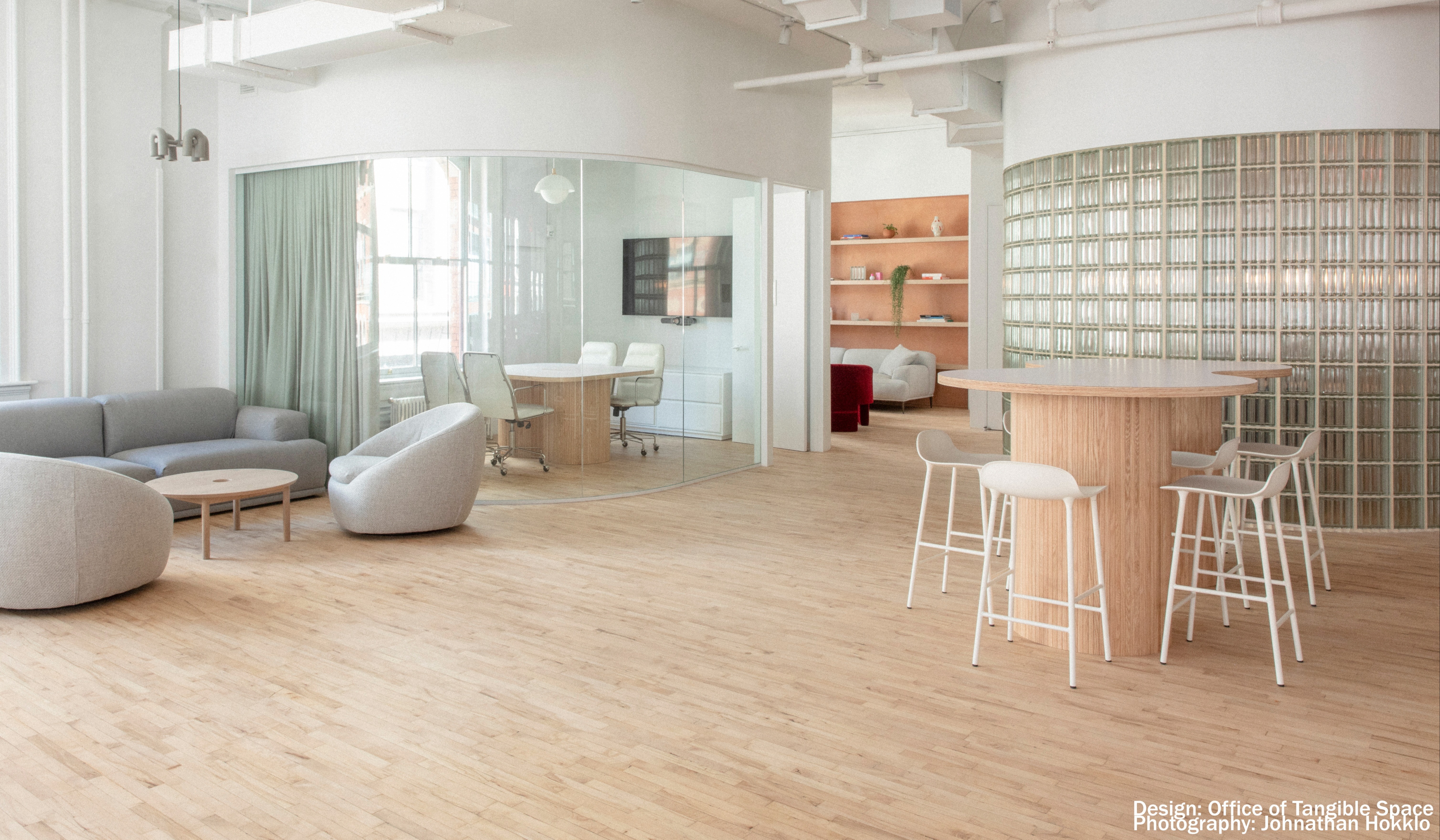 Glass Block Pavers
Structural glass flooring is a specialty of GBA as we are the only company who is able to provide a turnkey solution. Glass block pavers can be used in several walkable glass floor options: GlassWalk Glass Pavers, Precast Concrete with Glass Block Pavers, and Cast Iron with Glass Block Pavers. GlassWalk is a glass floor system which incorporates a metal grid to place each paver in, creating a dynamic glass block paver floor from edge to edge. GlassWalk glass block pavers can be installed as an interior or exterior application. Precast concrete with glass block pavers is a higher load walkable glass system, which places glass block pavers into precast concrete panels. This product is perfect for sidewalks, walking bridges, rooftop decks, or luxury hotel courtyards as the glass block allows for the passage of light to areas below. Cast iron and glass block pavers is a product that pays homage to the vault lights which were a popular way to light passages and levels beneath the sidewalks of cities like New York and San Francisco. Brought into the 21st century and designed to meet 100 live loads, these panels are perfect to replace historic vault lights or add a unique design to your busy storefront while keeping storage areas beneath naturally lit. Any glass block paver product offered by GBA is guaranteed to allow for more light to pass to areas beneath and heighten any design.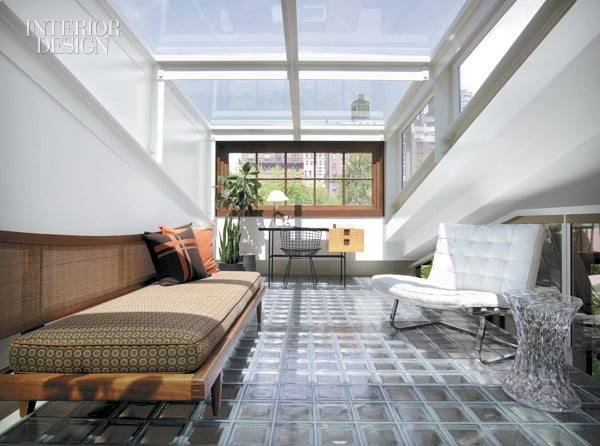 The Best Place to Find Glass Blocks for Sale
Searching to find glass block for sale can be a daunting task with all the ad's and online stores available to choose from. For more than 35 years, The Glass Block Supply Company, has been servicing contractors, designers, homeowners, etc., by supplying glass block and glass brick products throughout the world. GBS takes pride in their knowledgable staff who are capable of assisting in all construction phases, from pre-planning to selecting materials and finding a contractor to perform the work. Storing an extensive supply of glass block and glass brick inventory in our warehouse is what makes GBS the best place to find glass blocks for sale.
The History of Glass Block
Believe it or not, the first glass block was blown into a mold with a hollow center as well as an open hole at the end which was eventually filled with a plug. In 1886, Gustave Falconnier patented this first hollow glass block. A few years later, in 1907, German Light Prism Company (loose translation) patented the process to fuse two sections of glass into a single unit which enhanced the insulating qualities of glass block. Glass block finally came to America when the Owens-Illinois Glass Company introduced their glass block to the public in 1933. Since then, Pittsburgh Corning (permanently closed) and SEVES Glass Block (based in Czech Republic), have become known for manufacturing glass block. Now, glass block has transformed from an "old" product to something architects use to create designs that play with light and color.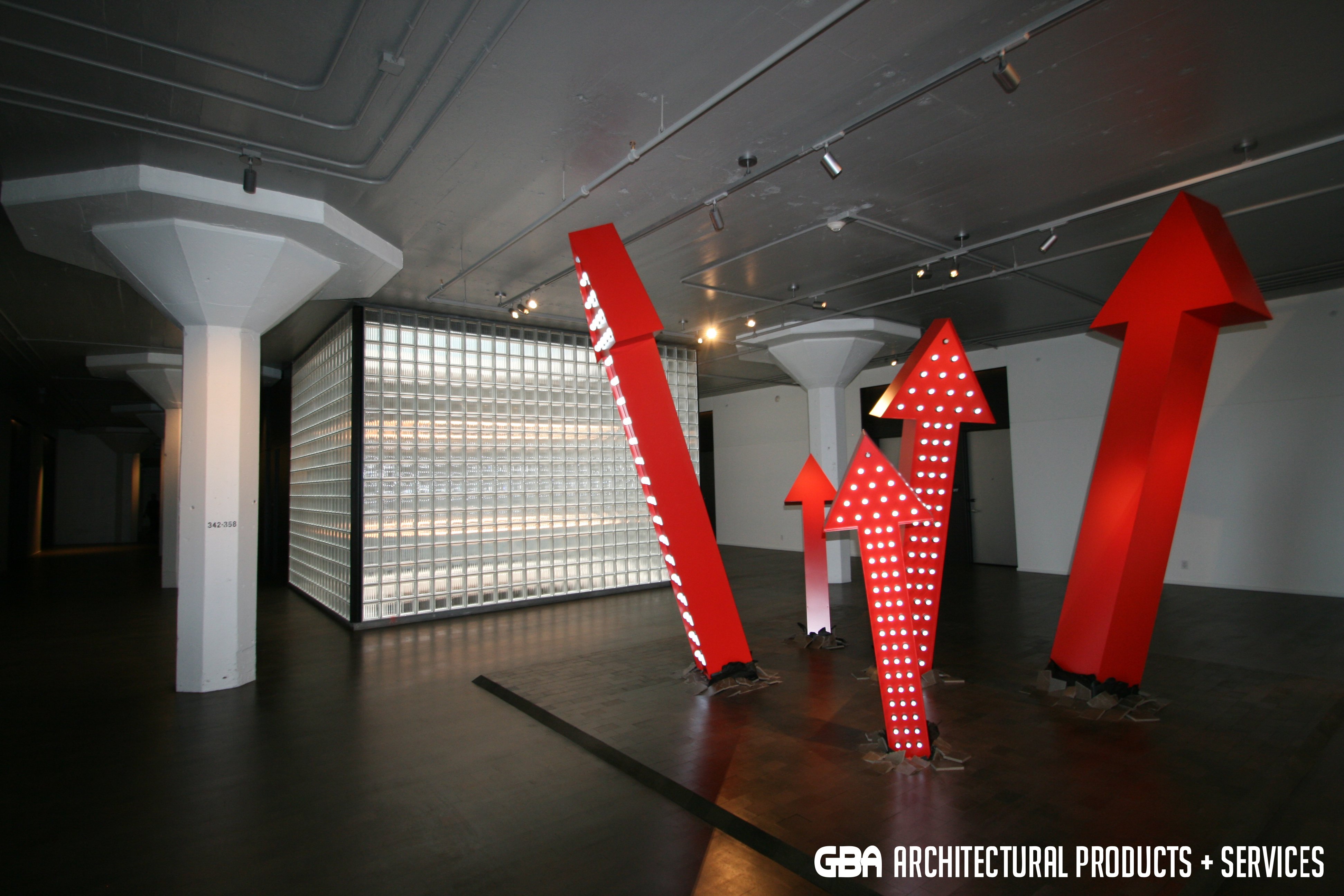 With the largest inventory of SEVES glass block and glass brick products in the country, GBA is capable of helping designers with their projects by sending samples, aiding in product selection and design, and even installing the product. Modern applications of glass block have lead to unique architectural designs, as glass block is not restricted by the shape of the building. With hundreds of shapes and sizes of glass block and glass brick available, its possible to create virtually any design. Glass block also offers high-tech options and color alternatives that contemporary architects have found as a great product for creating a visual interest. Utilize modern glass brick and glass block options as any of the applications: glass block windows, glass brick walls, residential glass block showers, or in any commercial space (office, restaurants, retail, government buildings).