What is Glass Brick?
Glass bricks are an innovative architectural element that can elevate any space, but they are often confused with traditional glass block products. Glass bricks are a completely different glass masonry unit when compared to traditional glass blocks. All glass bricks offered by GBA are made of solid glass units. Alternatively, traditional glass blocks are hollow on the inside. Another difference between glass bricks and glass blocks is the shape. Glass bricks are designed to emulate the look and feel of traditional brick building units while allowing natural light to illuminate the space. The applications of glass bricks are becoming more popular among high-end designers and architects to create accent walls that appear more stunning as light penetrates through them.
The use of a running bond is common in traditional glass bricklaying. Glass bricks can be laid in a running bond to create the traditional look of brick while achieving the "wow" factor. Given their translucence, glass bricks can be used in a bathroom to create a visually appealing accent wall. Although they are beautiful to look through, glass brick accent walls still grant privacy to any area by distorting shapes from the inside or outside of the room. Additionally, glass brick can be a great solution to elevate a space and create a modern corporate partition wall.
There are numerous benefits of incorporating glass brick in business and commercial designs. Glass bricks are ideal for increasing natural light within the workplace. Partitions made of glass brick increase the brightness of any workplace and optimize the function and energy of a workplace's interior. Glass brick can also be used to transform any dark space into a sun-filled sanctuary. Architects and designers are always looking to design visually unique features in any space, whether it's adding a pop of color or illuminating a space naturally. A glass brick wall offers an unforgettable design solution with an added bonus of safety. VistaBrik® and Vetropieno™ glass bricks provide a 90-minute fire rating in masonry walls where permitted by building codes.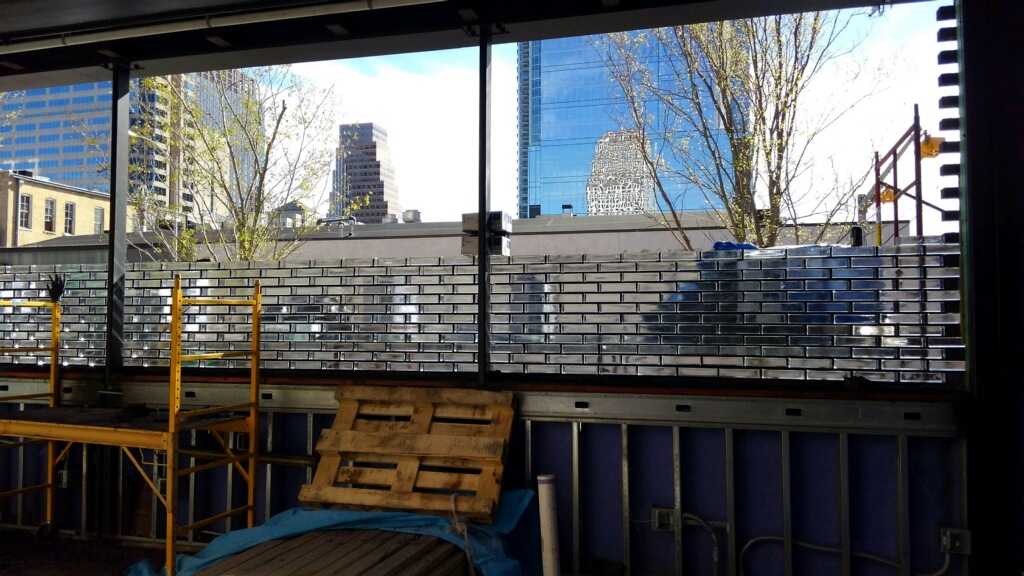 Vetropieno® - Designer Glass Bricks
There are several different solid glass brick options to choose from when designing a home or office space. Vetropieno® glass bricks are available in four luxurious colors, which makes this brick the perfect addition to any space. An alternative to traditional bricks, these designer elements offer the ability to combine aesthetic sensibilities in style, individuality, and color, all in one wall or window system. Vetropieno® Glass Bricks have numerous applications ranging from bathrooms and kitchens to decorative columns and railing structures. In addition to the maximum amount of light passing through each brick, they offer a fire rating of up to 90-minutes. Vetropieno® offers Neutro, Blue, Sienna, and Nordica colors. The glass bricks are offered in two different sizes, full-size bricks and half-sized bricks.
Vetropieno™ Rettangolare (full-size glass brick) dimensions: 9-1/4"x2-1/8"x4-1/2"
Half sized Vetropieno™ Quadrato glass brick dimensions: 4-5/8"x2-1/8"x4-1/2"
Vetropieno Americano™ glass bricks are sized to correlate with modular US brick sizes. This style of glass brick is only available in a clear, or neutral, color. These glass bricks are offered in two different dimensions, full-size (Rettangolare) and half-size (Quadrato). The combination of both sizes of glass bricks allows for the creation of a running bond with each design. These glass bricks are a versatile architectural element that can be installed in horizontal applications using mortar or without mortar in a grid.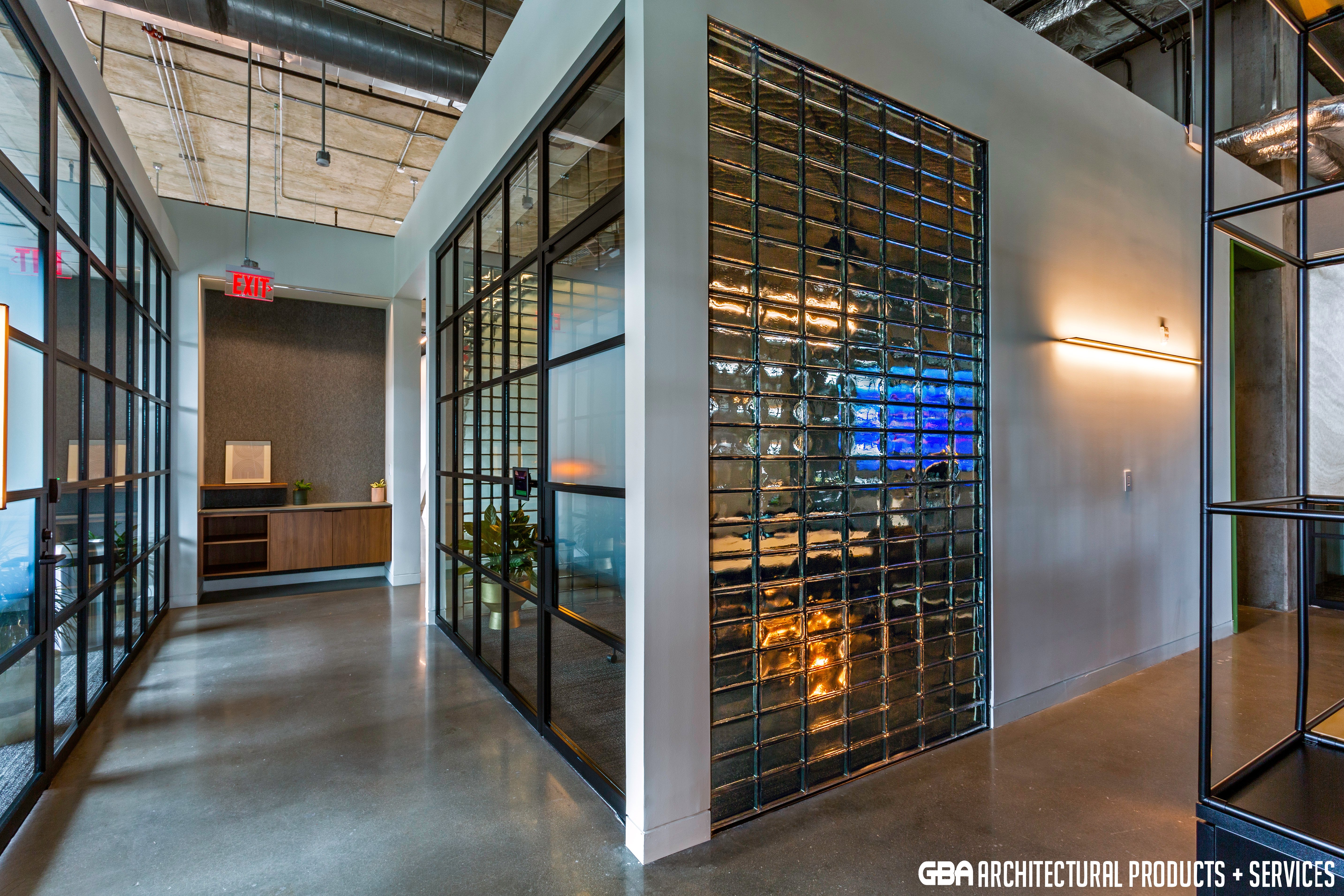 Vistabrik® - Solid Glass Bricks
Vistabrik solid glass units have become popular due to their high fire rating and light transmission properties. Pittsburgh Corning's Vistabrik was commonly criticized in construction specifications and documents prior to their closing. As glass blocks and glass bricks have improved over time, a stronger and more durable Vistabrik was created for use in schools, offices, and any area where added natural light is wanted. For applications where glass brick is desired with a fire rating, consider incorporating Vistabrik® into the projects' window or wall. Additionally, Vistabrik® glass bricks offer resistance to impact, bullets, and fire, making them one of the most versatile products offered by GBA.
Increasing the amount of natural daylight in any indoor environment is achieved with Vistabrik solid glass bricks installed in a window or wall system. Multiple size options are available including:
8"x8"x3"
6"x8"x3"
4"x8"x3"
Solid glass Vistabrik® can be installed either horizontally or vertically. When installed as window systems, Vistabrik can provide added security and resistance to storm-force winds. Three inches of solid glass makes Vistabrik a tough barrier against sounds and disruptions from outside of the space. These modern glass bricks are also a cost-effective solution with a 50+ year lifespan. With the ability to withstand significant impact while maintaining its beauty, Vistabrik is the perfect solution for any project where a glass brick window is desired.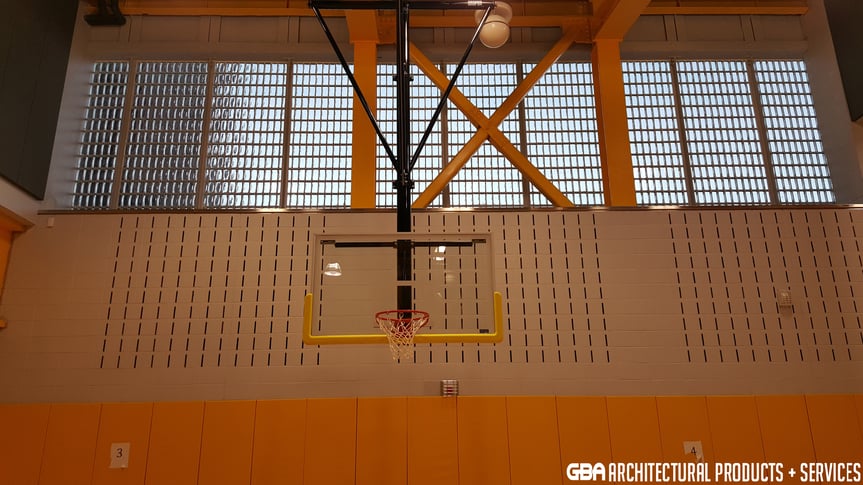 Use of Glass Bricks
Glass Brick Shower
Showers made of glass brick are not only unique, but they are also completely customizable. While they may cost more than traditional glass block showers, you will never consider a boring shower wall again. Designing a glass brick shower is extremely similar to designing a glass block shower. Glass brick shower walls add color and dimension to any bathroom and require minimal maintenance. Each glass brick shower wall is unique because it is possible to customize the shape and size of the glass brick being used.
Glass Brick Wall
Many interior designers like to feature an accent wall to draw attention to a specific focal point of a room. When creating an accent wall with glass brick, design options are expanded because glass brick adds the feature of illuminating natural light. Glass brick walls are easily designed and engineered to meet any project need. Mortarless glass brick grids feature glass bricks that are laid into a hidden grid in either a stacked or running bond formation. For an even more unique design application, traditional masonry bricks and glass brick units can be combined to create a stunning glass and brick wall. Single glass brick units can be intertwined into a brick masonry wall. To learn more about how glass bricks can be incorporated into a project, reach out to a GBA design expert.
Glass Brick Bar Designs
The addition of glass brick to any modern bar design truly makes that bar stand out. The combination of featuring natural light and built-in privacy makes glass bricks ideal for bar walls, partitions between booths, bar counters, and even outdoor railings. By adding LED lights to the counter, the bar's appearance will be high-end with an added ambiance. The Comedor, a restaurant and bar in Austin, TX, used glass brick to create stunning accent walls in the restaurant and additionally as an accent behind the bar. The vision for this design was to distort shapes with the glass bricks to create vague movements and colors glowing through to invite customers inside. A street-facing glass brick wall contributed to the architecture of this sophisticated "hidden gem."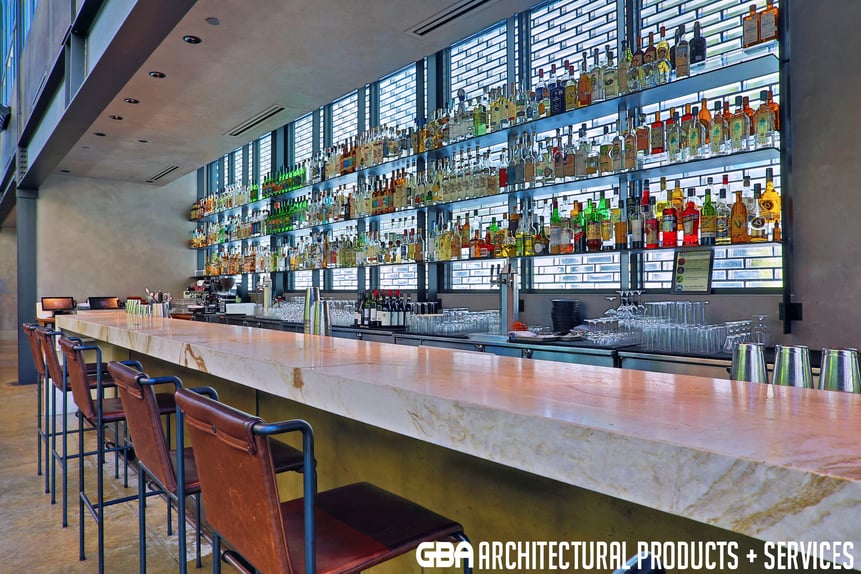 GBA - Glass Brick Suppliers
Whether you are a contractor looking for a ready-to-go glass stair kit or a designer looking to create a breathtaking feature, we are ready to work with you. With over 100+ glass block patterns and sizes available, we are experts in the industry and are confident we have the ideal glass block and glass brick solution. We have been installing glass block, glass brick, and walkable glass floor systems for over 35 years all across America. In addition, we have supplied glass block and glass block floor panels around the world to create dramatic design elements at Coach stores worldwide. We're committed to bringing every beautiful glass vision to life.
GBA is also an installer of GlassWalk™ Glass Flooring Systems (Structural Glass Flooring, Glass Stair Treads, and Glass Pavers). For those who want to envision what glass floor systems like our structural glass floors, glass stair treads, or glass pavers would look like in their space, we have samples ready to be shipped with our different slip-resistant textures.
To discuss the installation and advantages of incorporating glass brick into a new construction or remodel, contact a glass brick supplier near you by calling one of the three numbers listed below, orcontact usto speak with a GBA expert.