Fire Rated Glass Block - 45, 60, 90, and NOW 120 Minute Rating
Fire safety and resistance is essential in any building structure. Fire rated glass block windows can be an integral part of this plan by safeguarding lives and protecting assets through the glass blocks fire resistance. By incorporating the glass block as part of a system, GBA can make these window assemblies fire resistant for as long as two hours depending on the block. Our fire resistant glass block is certified and tested by Underwriters Laboratory Standards and/or NFPA 257. Fire rated windows can resist heat levels from a fire and prevent flames from spreading for a specific duration of time. Fire safety codes are not something any building contractor or designer will take lightly. That's why GBA offers fire rated glass block window assemblies that meet the required fire safety code.
We constantly are being asked "is glass block fire rated?". One of the most important features of glass block is the product's inherent fire-resistance property. Modern glass block is able to meet fire codes differently than traditional glass, which needed a wired glass in a steel frame to be fire resistant. By varying the face thickness of the product and conforming to installation specifications, GBA is able to offer a family of fire rated glass block products approved and rated according to Underwriters Laboratory (UL®) standards. UL is the global leader in safety science and delivers business solutions by sharing their knowledge. To test the block, according to lumenlearning.com, glass block is exposed to a propane gas-fired furnace for various periods of time. The survival period determines the fire rating of that glass block. Meeting UL standards shows that this product meets strict requirements founded in scientific research. This also demonstrates that our fire rated glass block window and wall assemblies are strong enough to resist natural occurring elements and are energy efficient.
Fire rated glass block is available in 45-, 60-, or 90-minute ratings for window or wall assemblies. Glass block offers a variety of colors, patterns, and sizes to customize your window in any application. The Premiere­­™ Series line of fire rated glass block allows for a 45-minute fire rating and offers the most options of glass block patterns and sizes. The Thickset® 60 and Thickset® 90 offer three different glass block patterns: Clarity, Nubio, and Spray. Thickset® glass block has a thicker face when compared to any of the Premiere™ series providing added security and provides a 60 minute fire rating or 90 minute fire rating. VISTABRIK® is a 3" solid glass block that has been classified by UL® for 45-, 60-, and 90-minute fire ratings.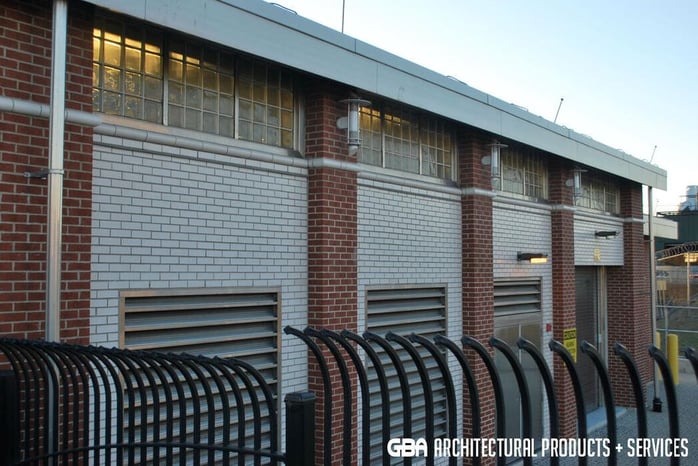 Architects realize that glass block offers both security and beauty. The fire resistance of our glass block does not hinder the amount of light that comes through. Fire rated glass block still maximizes the amount of light pouring through a window, and can be altered to be as translucent or transparent as you'd like. Glass block is perfect for zero lot lines or where building codes call for fire-resistant window assemblies. Zero-lot line houses can have loud noise levels due to the proximity of your neighbors. Not only will glass block provide fire resistance, but it can also reduce noise levels. Glass block can be customized by patterns or by sandblasting the glass surface for an added privacy feature without losing the amount of natural light transmitted.
Fire Rated Glass Block Design Features

+

Options:
Premiere™ Series:
4" Premiere™ Series glass block offers a 45-minute fire rating and the most design options. All Premiere™ Series patterns are classified by UL for 45-minute rated window assemblies. Size options available range from 8" x 8", 6" x 8", 6" x 6" and 4" x 8". S.T.C. levels range from 35-41 depending on the block best suited to meet the design goal.
Patterns for Premiere™ Series include:
| | | | |
| --- | --- | --- | --- |
| Arctic | Cortina | Light Diffusing | Regent |
| Clarity | Cross Ribbed | Nubio | |
THICKSET® 60 Series:
This 60-minute fire rated glass block option has a thicker face than Premiere with a face thickness of 0.375". Thickset 60 glass block offers an S.T.C. rating of up to 48.
Available styles for this block are listed below:

THICKSET® 90 Series
Thickset® 90 is a 90 minute fire rated glass block tested to meet UL® standards. This product is available in a variety of patterns to stance, this product is also available in a range of patterns and offers a higher level of S.T.C. up to 50
Styles available at a face thickness of .75":
VISTABRIK®:
VISTABRIK® is a solid glass block rated by UL at 90 minutes for fire resistance. A full 3-inches thick, VISTABRIK® provides the ultimate security and safety for a clear or obscure view. VistaBrik® offers the highest S.T.C. of up to 53 and is the ultimate glass block solution. This solid glass block is used to resist bullets, fire, noise, graffiti, and forcible entry. VISTABRIK® has been approved by UL-9 and NFPA 257 standards to be used in window assemblies at a 45-, 60-, or 90-minute fire rating.
| | | | |
| --- | --- | --- | --- |
| Clear VistaBrik® Sizes: | 8" x 8" x 3" | 6" x 8" x 3" | 4" x 8" x 3" |
| Stippled VistaBrik® Sizes: | 8" x 8" x 3" | | |
VETROPIENO™ Glass Brick:
Glass bricks are able to achieve a fire rating of 45-, 60-, and 90-minutes in both the full and half size bricks. Glass bricks can be incorporated into a building as a window system or wall system. Utilizing glass bricks combines the strength of traditional bricks with the light penetrating properties glass has to offer. Glass bricks can be installed in a traditional running bond, stacked on top of each other, or placed in a steel frame.
| | | |
| --- | --- | --- |
| Vetropieno™ Rettangolare Sizes: | 4.6" x 2.125" x 9.45" (full) | 4.625" x 2.125" x 4.725" (half) |
| Vetropieno Americano™ Sizes: | 3.675" x 2.25" x 7.675" (full) | 3.675" x 2.25" x 3.75" (half) |
Rettangolare glass brick sizes are available in 4 color options: Blue, Clear, Nordica, and Siena. The Americano style has one color option available which is Clear. Americano glass bricks were made to match the size of traditional bricks used in building. Glass bricks are a beautiful addition to any building not only for the amount of the light transmitted is incredible but also the security and protection they bring.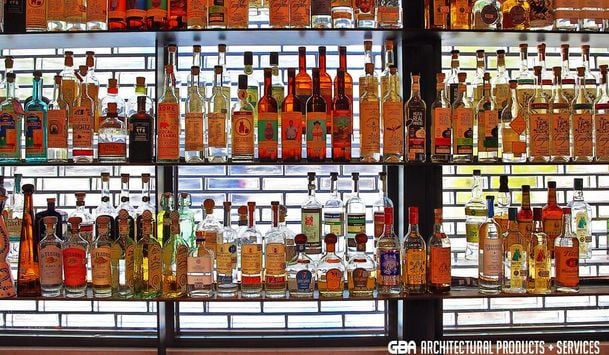 1919/13 F-120 Fire Rated Glass Block:
European and American tested this 2 hour fire rated wall glass block is available in 7-1/2" square/metric size. This 120 minute fire rated glass block achieves the 2 hour fire rating in vertical wall panels. Including a fire rated glass block wall into a project can transform any dark space, to one that is safe and naturally lit. The glass block can be customized for privacy with the addition of a Sahara Finish on either one side or both sides of the glass. This unique fire rated glass block was tested to meet European Standards and American Standards. Architects and designers have already been used in the US, and are being incorporated in many designs. The wave pattern of this glass block adds privacy with the distortion of figures on either side of the glass.
Meets ASTM E119 Wall Rating of 120 minutes

Available in Wave pattern