Glass block isn't just for basement windows anymore. Because of their versatility and luminosity, glass bricks have become architects most desirable choice. They have the ability to brighten spaces while still providing a clean and modern look in homes, offices, schools, and many other places.
As a distributor for SEVES Glass Block, GBA Architectural Products + Services provides access to the full line of VISTABRIK® and VETROPIENO™ Glass Bricks.
VISTABRIK® has become a go to for designers and architects across the country. The ability to provide security, versatility and light transmittance is what makes it the perfect choice. VISTABRIK® is built to resist penetration from high-impact ballistics while still providing a light transmittance of 80%. Because of its resistance to impact, graffiti, noise, and weather VISTBARIK® is a popular choice for schools, transit stations and safe rooms.
VETROPIENO™ is another great solid glass brick option for those who are looking to illuminate their project with glass block. Similar to VISTABRIK®, VIETROPIENO™ can provide peace of mind where impact resistance and fire rating is a concern. VETROPIENO™ Rettangolare (European sizing) is offered in variety of colors such as, Clear, Neutro, Blue, Nordica, and Siena. VETROPIENO™ AMERICANO™ is offered in clear.
GBA has completed a number of unique projects using glass bricks. However, there are three that standout to us because of their functionality and modern appeal. The first being the Comedor Restaurant in Austin, TX.
Architect, Olson Kundig, designed the outdoor façade of the restaurant to feature solid VETROPIENO™ glass bricks toothed into the black bricks on the exterior. This design allows light to be transmitted into the interior of the building while still providing privacy to those inside. Read more about the Comedor and those involved in our project inspiration!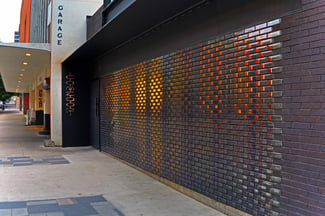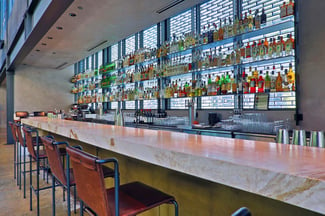 One of our most recent glass brick projects was at The Kiley apartments in Washington D.C. The Kiley is an apartment building located by the Southwest Waterfront District. It features "many unique Mid-century modern design elements" as well as a solid glass brick wall with hints of blue VISTABRIK® throughout. Using pops of color is a unique way to make your project standout.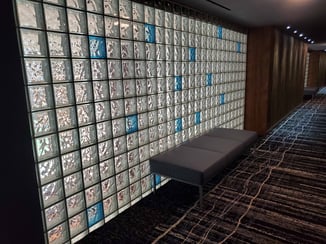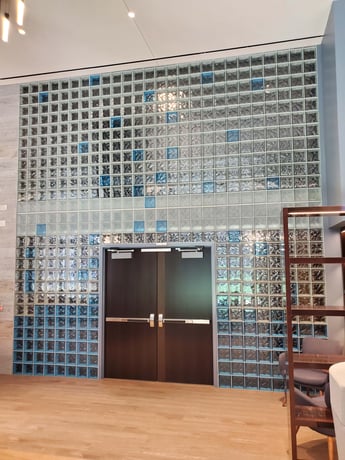 Making a statement is exactly what these VETROPIENO™ glass brick walls are doing in this office in Austin, TX. GBA installed two separate glass brick walls to provide a functional, yet, illuminating divider between offices and common areas. These glass bricks are perfect for office spaces because their ability to minimize sound transmission while still providing maximum daylighting capabilities. This unique application used two different colors of VETROPIENO™ glass bricks, the office walls were designed using bricks in the color Nordica with black silicone. The booth dividers were designed using glass bricks in the color Siena.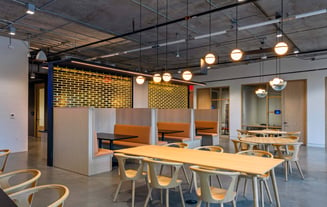 Contact GBA Architectural Products + Services
GBA Architectural Products & Services is a North American supplier of world-class glass block materials for interior and exterior applications. For over 30 years, the company has collaborated with professional builders and homeowners with many unique structural glass products that render beautiful and economical functionality in a broad range of scenarios.
GBA glass block products have been used in office designs, exterior claddings, walkways, and stairways throughout North America to admit natural light while optimizing the use of interior space.
For more information about glass block architecture for offices or other applications, contact GBA Architectural Products & Services.
Visit the GBA website or phone: