Back in 2004, GlassWalk™ Structural Glass floor systems made history by revolutionizing the glass flooring industry with a cost effective, aesthetically pleasing engineered glass flooring system. Since then, these projects have reached incredible success. Glass floors are ideal for any application where the addition of natural light is desired. The heart of this pre-engineered and fully tested glass flooring system is a lightweight aluminum grid. And, because each system is a friction fit, there aren't any welds or fasteners, and there are no tools needed for installation. If you're looking for custom options, the extruded aluminum grid can be powder coated to any desired color.
The glass floor panels are fully tempered 1" laminated structural glass units. The glass panel is comprised of a tempered top layer for strength, and one or more heat-strengthened bottom layers all bonded with a clear interlayer. However, the thickness of the glass floor varies based on the project. Depending on the design, glass floors can be 2-ply or 3-ply laminated glass. Anti-slip glass floor frit patterns are recommended to maintain the safety of your walkable glass floor. GlassWalk™ SG is capable of spanning up to 72" with no intermediate supports required. When adding walkable glass to larger areas, the glass panels are held up with support beams.
Building with glass floor systems is easy to install, as it is a custom system manufactured to meet any glass floor design ideas. To elevate your design, GBA is fully capable of incorporating LED lighting into the framework to illuminate glass floors. The glass floor panels and are manufactured to meet code requirements for load bearing glass. For every project, the GBA design team creates custom project drawings, including details and dimensions for the glass floor. This ensures we engineer glass floors that are safe for residential, commercial, interior, and exterior projects.
There are many options available to add glass floors to any room. To further customize your glass floor, GBA offers colored interlayers between the glass to enhance the floor design. We can even incorporate school logos or stamps to the glass interlayers for a glass floor unique to your project. In addition to custom colors and designs in the interlayers of the glass, we can also change the shape. There's no reason to restrict your room to traditionally square glass panels! Utilize GBA's expertise in customizing shaped glass floors to fit your vision. Construction details for glass floor systems are available upon request by contacting our design team.
Design Features

+

Options:
Structural Glass Floor Design
Standard glass (green/blue hue) or low-iron glass for a crystal-clear look
Fully transparent, fully translucent, or anything in between
Slip Resistant Options

Traction control ceramic frits, acid etched Walker Textures, or sandblasting offer excellent anti-slip qualities and is perfect for wet or dry conditions
Clear or Colored Interlayers are available to add a splash of color to your project
Digital Printing or Silk Screening can be applied to your glass panel to provide a unique feature to your project

Custom shapes and sizes available
2 or 3-ply laminated glass units
One major concern of the glass floors is the level of privacy a person walking on the glass has. By acid-etching the glass or changing the transparency of the glass, you can create the desired level of privacy for those walking on your glass floor. Despite changing the transparency or adding additional frit patterns, the natural light pouring through the glass will not change.
Architectural Grade Aluminum Grid System
6063-T6 aluminum is both light weight and super strong
Framework finishes come in a clear anodized, matte silver finish
Framework can also be powder coated to match any color to meet your project's color scheme
Designed to match any custom shaped glass floor
Aluminum structural members have up to 25% post-consumer recycled content
Glass Floor Engineering
Fully Engineered and Tested to meet a live load of 125 lbs. PSF
Stamped engineered drawings are available for all 50 states and Canada
GBA encourages the use of an engineered glass floor system like our GlassWalk™ floor system. We design the glass to fit flush within your desired opening, to withstand live load requirements, and be structurally sound to ensure the safety of glass flooring panels. Adding your own glass panels found elsewhere and not approved by our design team can create an unsafe walking area. GBA provides design assistance and engineered drawings when required to ensure an easy installation of the glass floor panels. The aluminum grid, spanning members, and glass panels will be shipped to you and designed to fit into your opening.
Historic Glass Floor Applications
GBA is the perfect partner in any historic renovation project, ranging from glass block to structural glass floors. The presence of historic features probably means that you've purchased a building that may require conservation when it comes to renovations. Thankfully, a glass floor can satisfy any legal obligations while ensuring the renovated space looks beautiful. Glass floor systems are the perfect product to display centuries of history below your feet while protecting the space for years to come. Not only does this preserve important history, but it creates a point of interest that guests will remember.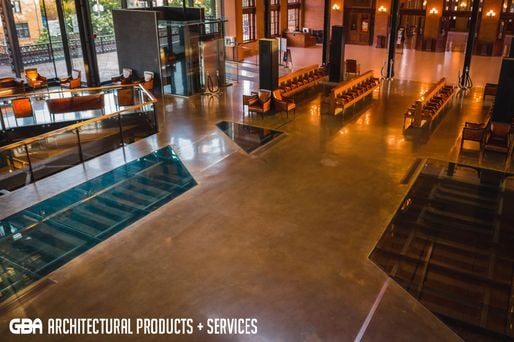 Structural glass floor panels over historic railroad tracks at Main Street Station in Richmond, VA.
Glass Floor Installation
Before installing your glass floor system, it is important to thoroughly read all directions, construction details, and provided drawings. Wear gloves and use caution when installing the any of the metal framework that has sharp edges. Avoid any rough treatment, dropping, and scratching of the framework during the assembly of the aluminum. Most importantly, when installing your glass floor system, refer to your approved shop drawings for the required opening dimensions and the glass floor dimensions.
Each structural glass floor is shipped as a complete kit to simplify the installation process. GlassWalk™ systems are designed to be set in a safe, supported opening to support the weight of the floor while also holding live loads as required by building codes. All of the elements provided to you will be precut to the exact project specifications.
GlassWalk™ glass flooring systems are easy to install. When installing a structural glass floor, precut silicone cushions are set on each side of the grid opening prior to placing the glass panels. Once the perimeter is in place, it is time to install the spanners as needed, per project specifications, followed by the structural glass floor panels. Our glass flooring system is designed to be set in an opening that has a containment ledge to support the typical self-weight of 14.3 psf.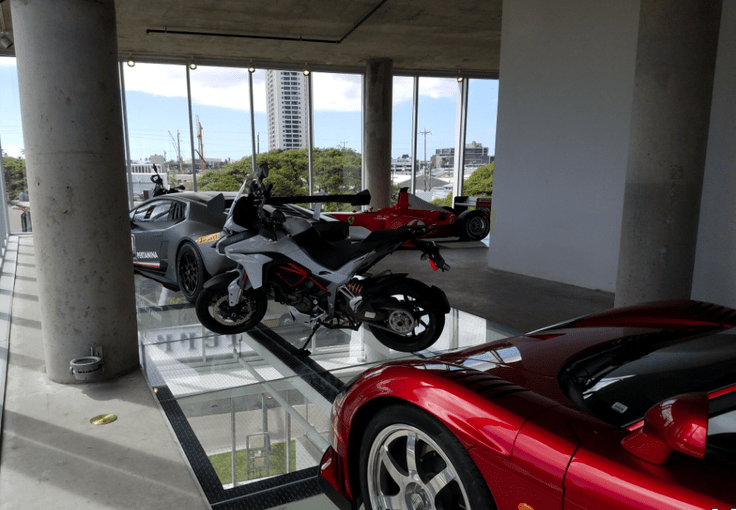 In certain applications, GBA can produce high load structural glass floors that can handle the weight of cars, trucks, or any other vehicle.
Common Applications
Access Flooring

Glass Floor Balcony

Glass Bridges

Catwalks

Glass Deck

Display Floors

Glass House Floor

Lobby Floors

Glass Floor Loft

Glass Floor Skylight

Stair Landings

Wine Cellars
Care +

Cleaning of Glass Floor Systems
Cleaning the Structural Glass Floors
Routine cleaning is an important part of maintaining the beauty of your glass floor, especially when the glass is used in an exterior application such as a glass deck. Deposits left on outdoor glass balconies can corrode the glass and permanently stain the surface. To wash an exterior glass floor, first rinse the glass with water to remove any dirt. Once the glass is soaked, use an abrasive free detergent and soft brush to wipe the glass. We advise using a squeegee to dry the glass, or a cloth to dry any water around the gasket, frame, or sealant.
The same non-abrasive cleaning practice should be used for your interior glass floor as well. When drying your glass floor inside, it is best to dry with a soft towel before using a squeegee to remove any water streaks in the glass. If anything remains on the glass floor after cleaning it, you can combine water and isopropyl alcohol in a 50/50 solution. Using this solution and a moderate amount of pressure should eliminate any hard-to-remove contaminants on your structural glass floor. If you intend to vacuum dust and dirt particles, be sure the bottom surface of the vacuum is smooth and will not scratch the top layer of your glass panels. A non-hard bristled broom is recommended to sweep any debris from the glass floor panels.
Cleaning the Aluminum Grid Framework
To clean the grid of your interior structural glass system, a soft cloth with water will typically be enough. The clear anodized finish on the GBA grid system will resist airborne dirt. For any stain that cannot be removed by water, we recommended using a mild detergent on the surface. Be sure not to rub the grid vigorously as it can create an undesirable glossy area over the satin finish. Use a rag, sponge, or soft bristled brush with a moderate to light amount of force depending on the stain. Never use abrasive, solvent-type cleaners or paint remover as they may dull or remove the finish.
Caring for an exterior application of this GlassWalk™ system can be tricky. First, note that the exterior clear anodized aluminum framework will turn a natural gray overtime. Once the entire grid has turned gray, it is difficult to bring back the original finish of the grid. The responsible party should decide if the goal is to have a soft natural gray appearance to the grid, or if the design intent is to keep the aluminum finish bright and looking new. For a natural gray appearance, relax and let nature do the job for you, as the natural gray will develop over time. If you intend to keep the silver finish bright, lacquering and waxing the grid before any weather begins can preserve the grid's beauty. When it comes to selecting a wax and lacquer, any wax free of abrasives and cleaners can be used to clean the grid. Automotive lacquers in a spray-can may be used on the grid and can provide longer protection. Never use varnish or shellac on your grid unless directed by the manufacturer.
The GBA Advantage
Whether you are a contractor looking for a ready-to-go glass stair kit, a designer looking to create that "wow" feature, or a home owner looking to live luxuriously, we are ready to work with you. With the full line of GlassWalk™ Glass Flooring Systems (Structural Glass Flooring, Glass Stair Treads, and Glass Pavers), GBA has the perfect solution for any project. If you'd like to envision what glass floor systems like our structural glass floors, glass stair treads, or glass pavers, we have samples ready to be shipped with our different slip resistant textures. We're committed to bringing your beautiful glass vision to a reality.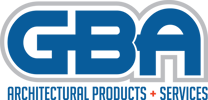 GBA is also an installer of glass block applications ranging from glass block pavers to glass block systems engineered for security and detention centers, hurricane resistance, fire resistance, blast resistance, and even tornado resistance. We have been installing glass block and walkable glass floor systems for over 35 years all across America. In addition, we have supplied glass block and glass block floor panels across the world to create dramatic design elements at Coach stores worldwide.
To discuss the possibility and advantages of incorporating GBA Structural Glass flooring or glass stair treads into your new construction or a remodel, contact one of the three numbers listed below or contact us to fill out our contact form.