Glass Brick Accent Walls
Searching for glass brick on the internet can be confusing and lead you directly to glass block instead. Modern glass bricks supplied by GBA are meant to replicate the look of traditional brick masonry building units. Glass brick is available in several different dimensions including full and half-sized bricks. Imagine how much natural light would radiate through any space with a glass brick window or accent wall. No need to worry about losing the privacy that traditional brick gives you, as our glass brick units provide privacy in the way the glass distorts what is behind.
Glass bricks are an architectural element that allows light to pass through while maintaining privacy. Glass bricks are unique in the fact that they give the look of traditional brick while allowing light to enter through because of the transparency of glass. While these bricks are clear, there is still a level of privacy that is maintained. Our solid glass bricks combine the strength and dimensional appeal of traditional masonry brick units with the transparency and luminosity of glass. Their nominal dimensioning allows them to course out with standard bricks, creating the ability to mix in and tooth seamlessly into any masonry wall or existing opening. Glass bricks can also be used creatively to bring in natural lighting highlights into any masonry wall application. Glass brick can provide an elevated look of luxury while illuminated any space whether it be commercial or residential. Solid glass brick units are also great in places for added security and protection when incorporated into the right GBA Engineered window systems.
Glass bricks are used to create visually stunning accent walls. These bricks can perfectly replace boring drywall and move light into different areas of any space. Solid glass bricks are commonly used for shower partitions, decorative columns or accent walls, windows, and even modern bar designs. Unlike traditional glass block, these solid glass brick units are smaller in width and height. Skinny, rectangular-shaped glass bricks can give a much more modern look than traditional glass block. This gives them the ability to add depth to interior designs. These units can be placed in interior or exterior applications and can be integrated into any existing wall. In any building, complying with building codes is a major concern. Glass bricks are the perfect solution to any new design due to their inherent safety features. Certain glass bricks have been tested to resist hurricane-force winds, fire, and even tornados. For more information regarding the engineered glass bricks, contact a GBA sales representative today!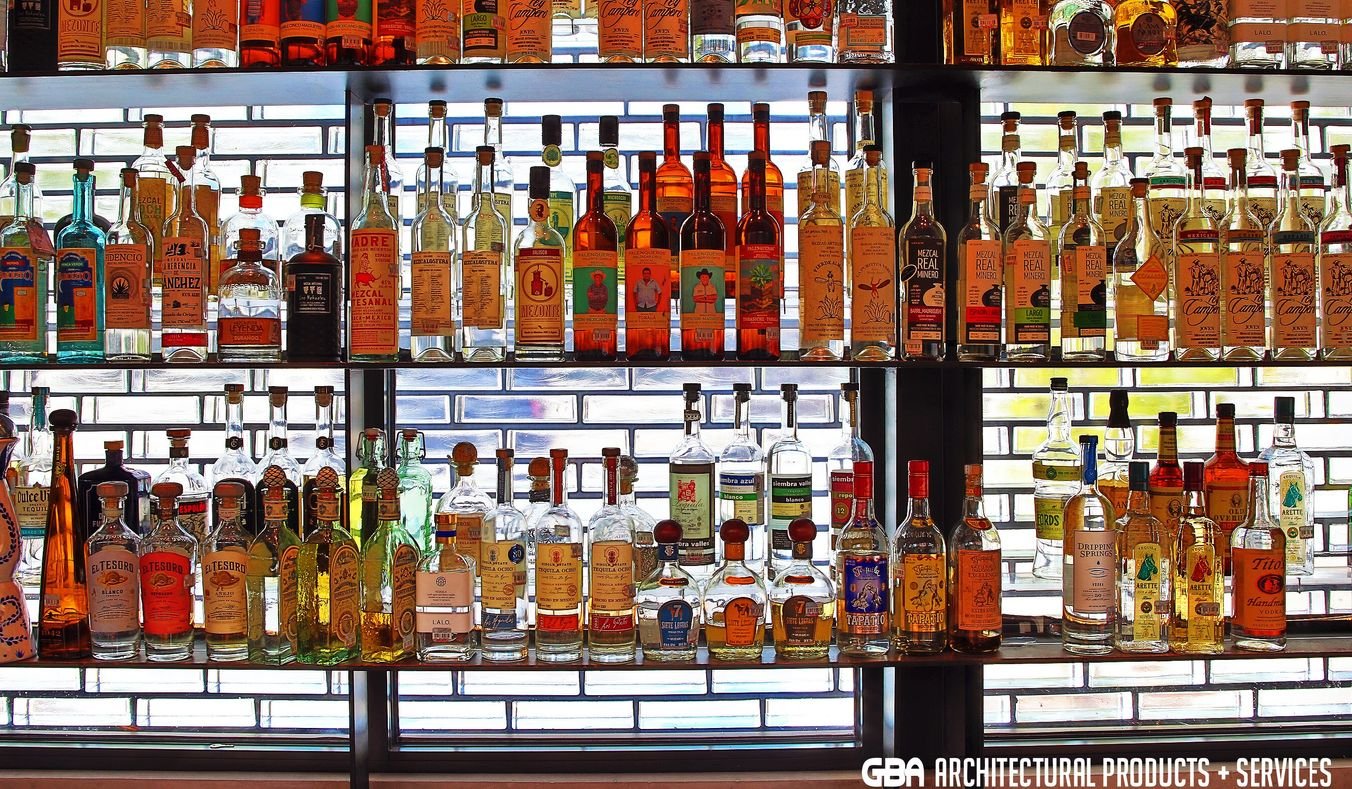 Design Features

+

Options:
Glass Options

VISTABRIK® - 3" Solid Glass

8" Square
6" x 8" and 4" x 8" (full or half)

VETROPIENO™ (full or half)

Rettangolare/European glass brick is available in 4 color options:
AMERICANO™ glass brick is available in Clear
Vetropieno Glass Brick Dimensions Chart:
| | | |
| --- | --- | --- |
| Vetropieno™ Rettangolare Sizes: | 4.6" x 2.125" x 9.45" (full) | 4.625" x 2.125" x 4.725" (half) |
| Vetropieno Americano™ Sizes: | 3.675" x 2.25" x 7.675" (full) | 3.675" x 2.25" x 3.75" (half) |
VISTABRIK® Solid Glass Brick
By creating an accent wall using Vistabrik® solid glass block and brick units, you get more than just elevated amounts of light pouring through. With the different dimensions offered, the 4" x 8" x 3" Vistabrik® can be laid horizontal and in a running bond to give the look of traditional brick with all the benefits of glass. Vistabrik® is one of the most versatile yet secure and strong solid glass blocks around. This particular glass brick can be engineered into systems for added protection against hurricanes, tornados, and fires, and can provide security in detention centers or jails. It is also perfect to create glass brick windows that combine natural light with the transparency of glass. For added privacy, Vistabrik® is offered with a stippled finish. These glass brick windows have a 20-year lifespan without significant maintenance. In fact, you can even clean these windows with a power washer.
Benefits of Vistabrik® Solid Glass:

VETROPIENO™ - Modern Glass Bricks
Vetropieno™ glass bricks are offered in a variety of sizes and colors. Unlike other glass block products, Vetropieno™ glass bricks are hollow glass brick units that create more depth of color and mystery to any glass and brick façade. Each glass brick is designed to be slimmer and more rectangular when compared to traditional glass block. These glass bricks create a beautiful glass brick wall, either exterior or interior. With proper design and engineering, glass bricks can be used to fulfill any intended "WOW" feature. Bricks can be laid in a stack bond, running bond, or set into a mortarless grid system.
Vetropieno™ glass bricks were created to be designer glass bricks. With this product's ability to bring the unique passing of light through any area, glass brick is suitable for any high-end design. Solid glass brick units can be used to create stunning glass accent walls. Contrary to what you may hear, typically you do not need special support under the glass brick wall you are adding. Unless there is a preexisting issue with the floor, standard subfloor framing is enough to support that glass brick accent wall.
Fire Rated Glass Brick
Vetropieno™ glass bricks are able to achieve a fire rating of 45-, 60-, and 90-minutes in both full and half size bricks. These bricks can be incorporated into a building as a window system or wall system. Glass bricks can be installed in a traditional running bond, stacked on top of each other, or placed in a steel frame. To achieve 90-minute fire ratings using Vetropieno™ glass brick a steel channel, expansion material at head and jambs, and fire retardant sealant are all required to be used. These solid glass brick units have been tested and classified by Underwriters Laboratories (UL-9) and/or NFPA 257 for use in fire rated window assemblies.
Vistabrik® solid glass block and brick units have been tested and classified by Underwriters Laboratories for use in a fire-rated window assembly, masonry wall construction, or non-masonry wall construction. For technical information regarding panel sizes and requirements for fire ratings, visit our resources page to view our brochure on Vistabrik® or contact a GBA sales representative today.
Common Glass Brick Applications
| | | |
| --- | --- | --- |
| Glass Brick Bar Designs | Façades | Windscreens |
| Bathroom Walls | Modern Balcony Railing | Glass Brick Windows |
| Glass Brick Bulkheads | Glass Brick Wall | Wine Cellars |