Vault Lights | Concrete and Cast Iron Vaulted Sidewalk
Vault Lights: The Beginning
Vault lights were invented in 1845 by Thaddeus Hyatt, and were initially used on ship decks to provide light below without using hazardous, open flame-producing instruments. These durable glass features were later mounted in concrete and cast iron panels and installed in city sidewalks to admit light into basements and spaces below.
Before the widespread availability of electric lighting, dead areas and rooms under sidewalks and other overhead structures could be used as storage or even apartments with the installation of vault lighting.
The original vault light glass design incorporated a prism shape on the bottom to diffuse and spread the maximum amount of light through a broader area. In some cases, multiple prisms set at different angles would be incorporated to spread the light evenly throughout a larger room.
Vault lights were popular in cities country-wide from 1860 through the 1930s. While some vault lights remain in New York and other cities, they have been largely phased out as materials broke down and created hazards with broken seals and glass. Broken vault lights and seals also allowed water to penetrate the surface to damage the spaces below. As a result, many have "repaired" the glass block opening with asphalt, concrete, or wood. This detracts from the beauty and historic preservation of concrete or cast iron vault light panels.
An Early Solution to Sustainability
While the primary purpose of vault lights (pavement lights) was to illuminate space that could not admit natural lighting, the introduction of these was a likely an unconscious effort toward sustainability and the preservation of energy.
Although electricity was not yet available in the mid-nineteenth century, building owners were able to light spaces while preserving the characteristic lighting sources like gas, oils, and candles. Also, still in line with sustainable activity, the air within those enclosed spaces would be decidedly better without the smoke producing light sources. Even as electric lighting became common, vault lighting continued to provide illumination during the day.
The Resurgence of Vault Lights, But Not How You'd Think…
Have you ever wondered what those little glass insertions in sidewalks of major metropolitan cities were? In many cases, those glass pieces were flush with the sidewalk, or sometimes seemed like slightly raised glass "bumps." In either situation, those were inserted into the pavement to permit sunlight into spaces beneath the sidewalks.
As a re-emerging historic American architectural feature, those original vault lights are being restored and re-imagined by architects and designers. Thanks to innovations in design and technology, architects and designers can re-imagine vault lights beyond the traditional sidewalk applications to include skylights, deck lights, stair treads, risers, landings, and bridges.
The Look and Feel of Sidewalk Vault Lights, Without the Extra Weight
Composite Concrete and Cast Iron Panels are another way for designers and architects to achieve a historic aesthetic without added weight or a difficult installation. Inspired by traditional vault lights, these decorative panels can be used in both interior and exterior applications. Composite Concrete and Cast Iron Panels are custom fabricated to meet any specifications or compliment any design. The panels can be easily installed overhead or vertically for any decorative use.
Composite Cast Iron Panels are manufactured in the United States using environmentally friendly components. The water-resistant composite material is formulated without CFC's or VOC's. Composite Cast Iron panels are available with a hammered black painted finish, with or without buttons. Choose from a variety of surface finishes and colors for a completely customized look that meets your requirements. The panels can be backlit to enhance any space.
GBA has become on of the leading experts in sidewalk vault light restoration. Vault lights are an architectural feature that brings beauty and sustainability to modern spaces.
How Do You Find The Best Quality Vault Lights for Sale?
Now that you know "What is a vaulted sidewalk?" you may feel inspired to use sidewalk vault lights for an upcoming architectural project. Vault lights are a great way to add a unique design feature to your space. Not only do they utilize natural light, but when you choose GBA, you can almost customize your vault lights to fit your vision.
When it comes to finding the best pavement lights cost, it's going to largely depend on the size and scale of your project, as well as the specific materials you choose. GBA offers different types of glass that come in varying thickness to suit your project needs. Our promise to you is that the glass block that's used in our vault lights is energy efficient, graffiti resistant, noise resistant, and sustainably designed.
How can glass block that's used in pavement lights be sustainable? What many do not realize is that glass block is made mostly from sand and limestone, and it's 100 percent recyclable. Plus, it's known to last 50 years or more, which means you'll get durable glass sidewalk vault lights that don't need to be replaced. In addition, the dynamic relationship between glass and light utilizes natural sunlight to illuminate a space with no electric or gas required.
If you want vault lights for sale that are sustainable, customizable, and last for decades, GBA is the answer. But before you invest in pavement lights, let's talk about some creative ways this design feature is being used today.
How Do Designers Use Pavement Lights Today?
Now that vault lights have seen a resurgence in modern design and architecture, manufacturers have developed new and improved methods for creating glass sidewalk vault lights using different materials. Let's take a look at some of these new developments of vault lights, and how they are used in modern applications.
Cast Iron Vault Lights
Here at GBA, we offer cast iron and glass pavers as an option for vault lights for sale. Cast iron and glass pavers allow light into vaulted areas that lie beneath the vaulted sidewalks in America, Europe, and more.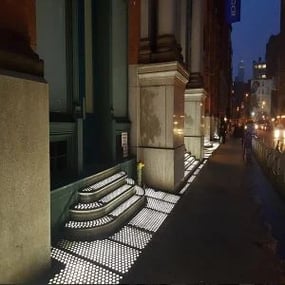 Our prefabricated cast iron panels demonstrate our cutting-edge engineering and design capabilities. These panels are built to withstand today's structural loading requirements, while maintaining the same historical aesthetic of traditional glass sidewalk vault lights. Our cast iron vault light design allows you to combine a number of glass prism options with different colors and textures to create a walking surface that allows for light transmission. You can use this style in a number of applications, including:
Sidewalk vault lights
Stair treads
Landing
Bridges
Deck lights
Risers
Our cast iron pavement lights can be finished in blackened patina or in custom colors of your choice. The glass prisms are the design element that is fixed between the cast iron shape to allow light flow. These prisms are available in round or square options. The square glass prism shape is what mimics the historic Victorian cast iron pavement lights, while the round option creates a modern look. Regardless of the style of pavement lights you choose, our glass prism texture comes with a clear or sandblasted top that ensures an anti-slip surface.
As mentioned, our cast iron pavement lights are engineered to meet today's safety and loading requirements. That means these vault lights are tested to meet a live load of up to 600 lbs. When you choose GBA for your sidewalk vault lights project, you'll get a product that's customizable, engineered for perfection, and ensures safety.
Precast Concrete and Glass Pavers | Sidewalk Vault Lights for Sale
Another option for pavement lights for sale is to opt for precast concrete. Concrete has been used for centuries thanks to its strength and performance. Specifically, concrete is used in construction as a base building material because it can withstand stress and activity for years.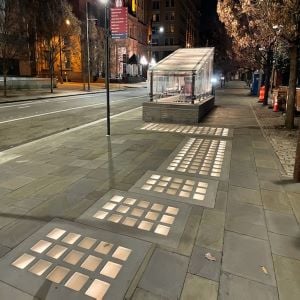 What you might not know about concrete is that it can also be glazed with different colors and designs to enhance its visual appearance. This, combined with it's durability, makes it a great material for reimagining glass sidewalk vault lights. Here at GBA, we craft and produce precast concrete panels that come with glass options to allow natural light into spaces below. Our concrete pavement lights are a reliable and long lasting way to add the historic vault light look to any space.
Our concrete pavement lights make a great addition to a building or bridge, because they blend in with the existing infrastructure. As mentioned, the concrete used for these pavement lights can be glazed in colors and designs that fit your vision. Our finish options include six standard colors and three custom colors: Sand Blast, Light Broom finish, and Acid Etched.
The glass pavers that fit into the concrete come in square and round options, and in different size diameters to accommodate our customers. We are proud to offer concrete vault lights for sale that are engineered and tested for safety and reliability, so you can get a new vault light design feature that lasts.
Steel and Glass Pavers | GBA Vault Lights for Sale
GBA offers steel vault lights that project natural light into spaces below. Specifically, our steel vault lights for sale act as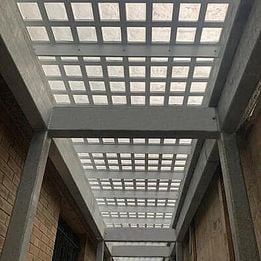 skylights that shed light into spaces to brighten them. Skylights are not a new design feature; they have been used since the early 1900s as a way to utilize the power of natural light. Today, GBA uses these same principles to offer steel skylights that work similarly to a vaulted sidewalk, and will light up your space in the daytime.
Our steel vault lights come as regular steel, stainless steel, or hot, dipped, and galvanized steel. Plus, the steel can be finished in a variety of custom colors that create a powder coat finish. The glass pavers inside the steel vault lights come in square modules, but can be made in historic prism shapes upon request. As always, these steel and glass pavers are rigorously passed through quality control. Our steel vault lights can meet a live load of 100 lbs PSF or greater.
Why Choose GBA For Vault Lights for Sale? | About GBA Architectural Products
GBA Architectural Products & Services began in 1985 out of Medina, Ohio. Founder Jeff Boesch was focused on installing residential glass block window projects throughout Northeast Ohio.
As GBA grew and evolved, it became established as a leading source for glass block materials and ready to install residential window panels. Now, GBA collaborates with professional builders and homeowners to transform their spaces through unique structural glass products, like vault lights, cast iron pavement lights, glass block pavement lights, and so much more. GBA's design solutions render beauty and are economically functional, which is why they span a broad range of projects.
GBA glass block products have been used in offices, exterior cladding, walkways, and glass stair landing panels throughout North American to admit natural light, while optimizing the interior space.
For more information about glass block architecture for offices or other applications, contact GBA Architectural Products & Services.
Visit the GBA website or phone:
Midwest -
East Coast -
West Coast -