Trespa International B.V.
Founded in 1960, TRESPA® is recognized worldwide for their innovation in the field of architectural materials. Trespa develops high-quality and aesthetically pleasing exterior and interior phenolic panels. All Trespa products are manufactured at their headquarters in the Netherlands. Through developing a network of local agents and distributors, Trespa products are sold worldwide. GBA Architectural Products + Services has created a relationship with Trespa that allows us to be a Trespa contact to distribute and install their products. Trespa products are low maintenance (cleans easily), water-resistant, and UV resistant (color stable), which makes Trespa a sustainable solution for your design needs. Trespa is broken up into three main product lines including Trespa METEON®, Trespa Pura NFC®, and Trespa TopLab.
GBA is a nationally certified installer for Trespa® products and we supply and install both Trespa Meteon and Trespa Pura siding. We have the ability to assist in the design process, provide samples and submittals, oversee budgetary and planning costs, provide firm proposals to supply, and install the system with certified Trespa® installers. With multiple exterior siding options in a multitude of colors, Trespa® is the perfect product for any modern exterior.
Trespa's advanced in-house technology offers the performance necessary to represent and maintain iconic brand imaging over the life of the building. Trespa® is a decorative high-pressure compact laminate (HPL) with an integral surface manufactured using Trespa's unique in-house technology, Electron Beam Curing (EBC). The blend of up to 70% natural fibers and thermosetting resins, manufactured under high pressures and temperatures yields a highly stable, dense panel with an ideal strength-to-weight ratio. Trespa products also possess exceptional weather resistance. Testing shows no signs of deterioration during extreme weather conditions such as intense freeze-thaw activity, saltwater and air exposure, desert heat, and direct Florida sunlight. Trespa has proven to be beyond comparison for offering the best fade resistance, scratch resistance, and providing a graffiti-proof surface.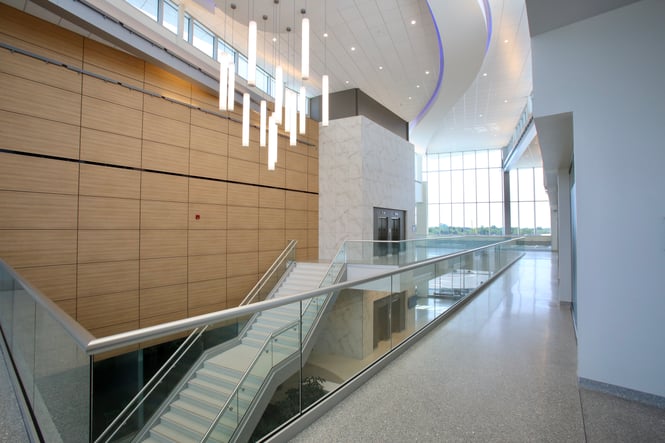 Blessing Health System in Quincy, IL // Photo courtesy of Trespa®
Trespa Meteon:
Color on façades can tell a story, play with contours and volumes, break up surfaces and create captivating rhythms. You can employ a façade covering to assign different identities to parts of a building, to designate specific functionalities - or simply make things more attractive. Trespa® offers a broad selection of bright, long-lasting colors for façades. If desired, we can provide Trespa® Meteon® in colors created especially for your project.
Meteon® allows you to combine a natural appearance with physical durability. Give any building instant character with decors inspired by natural materials and processes. You can unleash your creativity in new ways and create tomorrow's nature-inspired designs. Meteon® wood decors bring warmth, enabling fresh contemporary designs as well as classic weathered looks. Introduce lively weathered-looking surfaces and patina designs wherever you like with Meteon® naturals. Dimensionless designs make it possible to bring details and complete façades to life.
Trespa Meteon is an exterior cladding system with unlimited design capabilities, unique patterns, and remarkable colors. This ventilated decorative façade, or rain screen, comes in the following designs with additional finishes to give a matte or glossy modern look to a building.
| | |
| --- | --- |
| Lumen | Metallics |
| Focus | Wood Decor |
| Naturals | Uni Color |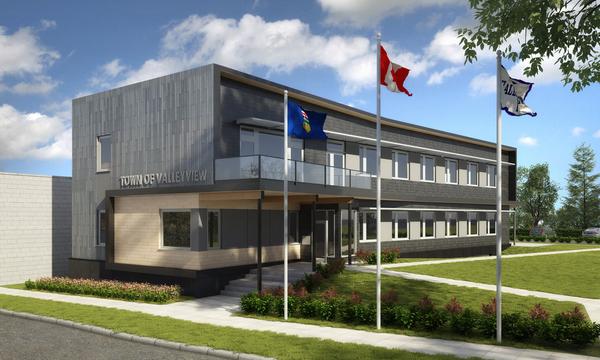 Valleyview Town Hall in Alberta, Canada // Photo courtesy of Trespa®
Trespa Pura NFC:
Pura® NFC by Trespa® clads buildings in enduring elegance – maintaining its beauty and smooth surface in the face of the elements. The premium façade solution is the most popular of the Trespa® product line offered by GBA. It is designed to be durable, low maintenance, and easily installed. This high-impact resistance exterior siding system is designed for easy installation and to keep dirt from building up. Trespa is a perfect siding material for a seaside home that needs to withstand harsh environmental factors. The outdoor living space of your home will remain beautiful despite the weather conditions and even intense amounts of sunlight. These panels are manufactured to be an investment for a better future when it comes to the exterior siding of any building. With minimal routine upkeep, this product is known to maintain its appearance for a long time with no requirement for painting or resurfacing.
Pura® is beloved for its easy installation and beauty. Tenants and buildings owners are constantly selecting Trespa phenolic panels for their long-lasting durability ensuring that any building is not expensive to maintain in the future. A vibrant palette of siding colors are available in this line which harmonize with the natural landscape surrounding. Natural wood facades lock in beauty protecting the wall from rot. Trespa takes pride in testing their products in labs to expose them to extreme solar radiation, damaging wind, and other weather elements.