Glass Block Windows
Glass block has been a popular choice for architects for over a century. It is often used in schools and public works buildings for its durability, strength, and light-bearing properties. With over one hundred glass block patterns to choose from, glass block windows create privacy without having to lose natural light by closing blinds. Now, with improved product lines and enhanced performance, glass block has become the choice of many architects, designers, and property owners. With its modular-sized units, it is capable of fitting any size opening in new or existing construction. Glass block windows are perfect for any building that could benefit from durable, secure, light-transmitting windows.
These modern glass block windows are energy efficient and in certain applications, glass blocks can help to reduce the amount of heat transmitted inside. Traditional windows are unable to guarantee the amount of light allowed through. Depending on the location of the window, you may keep blinds or shades covering the window for privacy. Custom glass block windows can be created with any glass block pattern to bring the comfort of privacy without having to lose natural light. Certain glass block patterns can make it impossible for someone to see in from the outside, making glass block windows ideal for windows located in showers.
Homeowners do not need to worry about maintenance when it comes to glass block windows. A simple power wash to the exterior of the window will be enough to keep the glass clean. In shower applications, there is no need to worry about constant contact with soapy water, as this will not harm the glass block. To clean glass block shower walls, simply wipe down the surface to avoid soap and hard water spots.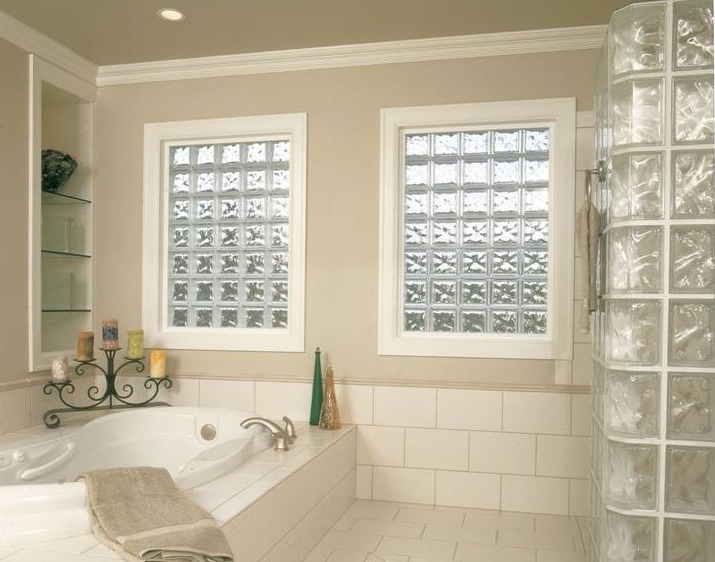 Glass Block Window Designs:
The location of the glass block window you want to incorporate into your home can affect what glass block design option is selected. With hundreds of options to choose from, there is a glass block pattern for every design aesthetic. Patterns such as Arctic, Clarity, Alpha, and Clearview have been popular glass block pattern options for glass block windows in kitchens, bathrooms, and basements. In addition to all the glass block options available to customize your window, one decision to consider is whether you would like the glass block window with a vent or as a solid glass block window/panel.
Including a vent in a glass block window or panel will allow the air to flow from the outside into any room. Vents are offered in sizes ranging from 14"x8"x3" to 24"x8"x3" and feature an insect screen on the inside to keep bugs out of any home or office.
Glass block windows with dryer vents are a common application to vent dryer exhaust hoses to the outside of any home. Washer and dryer units are traditionally found in bathrooms, designated laundry rooms, and basements, all of which are areas many homeowners would like to keep private. Glass block windows with vents are perfect to keep these areas private while allowing large amounts of natural light to pour through.
Window Glass Block Design Options:
Imperial Line Glass Block
3" Thinline® Series
The Imperial Line of glass block includes four different glass block and brick collections. Featured in this line is Thinline 3" Glass Block, Premiere 4" Glass Block, High Performance Glass Blocks and Bricks, and the Mini Collection. Some of the most common hollow glass block units are from the Thinline 3" Glass Block collection including Alpha, Clarity, and Nubio glass block. A Thinline glass block is perfect in residential applications where a slimmer block and window are desired. This series has a variety of patterns and sizes for you to select the perfect glass block to meet your light transmission and desired privacy goals.
4" Premiere™ Series
Premiere 4" Glass Block is the most versatile glass block collection offered. These glass blocks are perfect in commercial or residential applications to allow natural light to shine through. With numerous patterns and sizes to choose from, these 4" glass blocks are the standard in the glass block industry. Most glass block offered in this series is rated with UL or NFPA 257 standards for a fire rating at a minimum of 45-minutes. In addition, these blocks offer additional resistance to fire, sound transmission, and impact.
Design Features

+

Options:
100+ patterns and colors to choose from
Modular sizing options to fit any dimensional needs
Options for fire rating and hurricane, tornado, and security needs
STC Levels as high as 53
SHGC levels as low as .34
U-Values as low as .19
Visible light transmission as high as 92%
All existing engineering and testing available
GBA is proud to have completed numerous glass block historic renovations over the last 35 years!