19th century architects were thinking "green" while maximizing space with their solution of pavement vault lights, glass prisms cast in concrete. These pavement vault lights brought light to the hollow interior below. With this thought in mind, GBA engineered and manufactured precast concrete and glass panels which can be used as ceilings, canopies, or sky bridges, and can even be backlit for a more dramatic effect. Our translucent precast wall panels are perfect for creating a unique design statement on any project. Created to have the same look and feel of precast concrete at a fraction of the weight, these panels come in a variety of colors, finishes and glass block options. Precast concrete walls are made from two pieces of durable fire resistant half-inch boards, located on both sides of a lightweight insulated material. These precast concrete wall panels are perfect for interior accent walls or divider application that could benefit from the addition of natural or artificial light.
The finished texture gives the look and feel of a sandblasted concrete finish when utilizing a grey color. Precast panels are available in four standard colors but can also be customized to match the color intended for the desired project goal. GBA works with you to design artificial concrete wall panels utilizing the latest in current building materials and supplying hundreds of glass block and brick options worldwide. The glass blocks are secured within the precast concrete panels using a combination of high-strength construction adhesive and grout joint around the perimeter. Depending on the thickness of the panel and the glass block selected, the precast wall panel weight is approximately 10 pounds per square foot. Multiple panels of this fire retardant insulated system, can be mulled together to make a design statement for decorative wall or ceiling panels.
Precast Concrete Wall:
Engineering:
Precast concrete panels are manufactured in modular sizes and are offered in standard sizes including:

2'x4'
4'x4'
4'x8'
Custom sizing available to match any design - contact us to learn more!

Achieve wall heights up to 12' tall
Standard precast panel sizes are 4" thick, varies on glass block or glass brick selected
Internal framing makes for easy anchoring to any substrate
Meets ASTM E-84 Class A Fire Ratings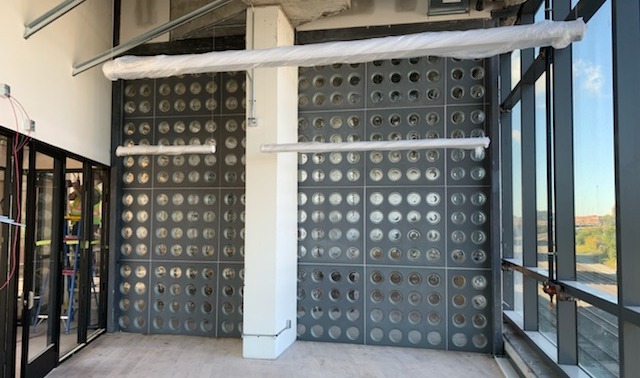 Design Options:
When it comes to incorporating composite precast concrete accent walls into your project, there are many options available to customize them. The glass block inserted into the artificial concrete wall panels have advanced from past and now has hundreds of patterns to choose from. Glass block patterns can allow for a more unique design and add privacy as they can obscure figures on the opposite side. In addition to patterns, glass block can be round, square, or rectangular. Solid glass brick units are also available to incorporate which come in a variety of colors and resemble traditional brick units. To give these walls even more of a "wow" look, consider incorporating LED lighting to the panels so that they are backlit!
Applications of Composite Concrete Panels:
Artificial concrete wall panels with glass block are made of such lightweight material that the panels are hand carriable making the installation process so much easier. Similiar to molded concrete walls, these precast panels can be constructed in an "assembly line" fashion on the job site. Common applications installed by GBA have been incorporated as accent walls. An accent wall by definition is a wall that is different in design from the other walls in that room. The color of the wall may be different, it could be textured, or made of an entirely different material. Precast concrete walls made with glass make the perfect accent wall due to their versatility.
In Toronto, Ontario, WeWork installed our Composite Precast Concrete panels into their multipurpose office space. This creates a unique and inviting seating area without feeling completely closed off from the rest of the office. The circular glass block incorporated into the panels was completely clear, allowing the maximum amount of light to pass from one office area to the next.
Due to the lightweight nature of the precast concrete and glass paver panels, they can even be hung decoratively from the ceiling. This particular application can give any room a modern design with lights passing through the glass pavers set within the precast concrete.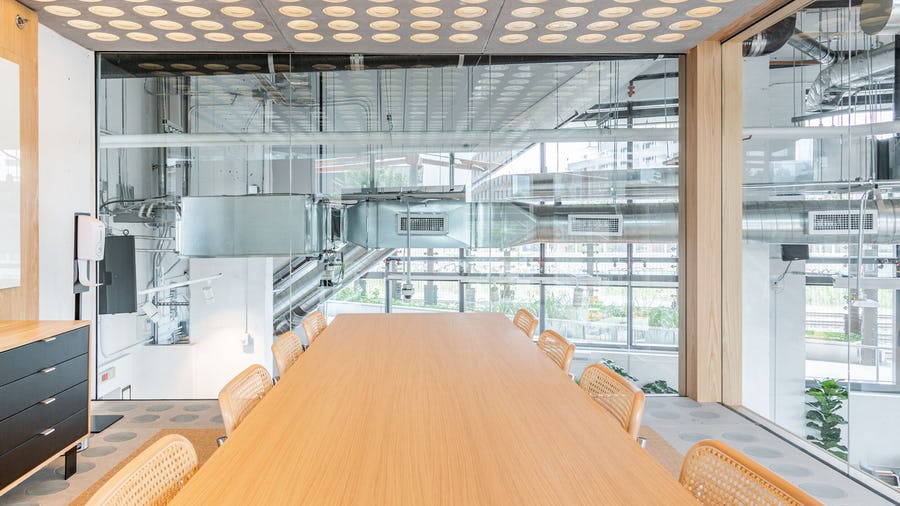 Photo above shows precast concrete and glass paver panels hung from the ceiling at WeWork, located at 1100 King Street, Toronto. Also shown in this photo is GBA's precast concrete and glass paver structural, walkable glass flooring system. Photo is courtesy of WeWork, all rights belong to them.