When you hear accent walls, what do you think of? Maybe it's your grandmas tacky dining room wall paper or maybe a DIY board and batten wall gone wrong. We are here to change the way you think of accent walls and let you know how aesthetically pleasing and practical they can be, especially when it is made out of glass block. Many associate glass block and glass bricks with the outdated architectural styles from the 1980s. With modern technology and design experts, glass block is being used in renovations of industrial lofts and restaurants, vintage storefront windows, and even as dividing walls between offices.
Glass block as an architectural material has natural factors that allow the customer to decide how much light they would like to pass through one space into the next. Textured and colored glass blocks achieve different aesthetic affects while maintaining the materials translucent properties. Glass blocks also offer resistance to elements such as hurricane winds, fire, tornados, and can even provide additional security when combined with our engineered system. With so many patterns and sizes glass blocks are offered in today's architects continue to incorporate it in their project designs.
Designing an accent wall using glass block is a cost-effective design statement. Glass block is often used in walls where there is a desire for separation and privacy from one space, while not wanting to lose light. Not to mention the minimal sound transmission properties that make it an excellent building material for offices, schools and community spaces. The energy saving quality is another reason why many designers will incorporate glass block. By allowing more light through, minimal sound transmission and reducing heating costs, glass block can really make a difference.
WeWork added glass block partitions between workspaces to promote natural light, creating more inviting work spaces. A standard glass block accent wall is created using a mortar or grout joint. GBA has developed a sleek, minimalist mortarless grid system like the one we used in multiple WeWork office locations.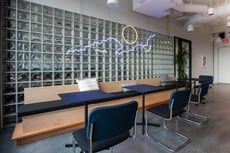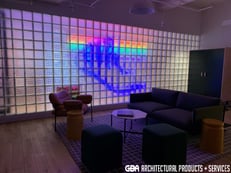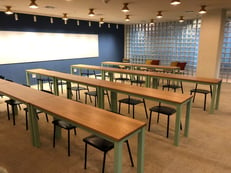 While glass block is sure to make a statement inside your space, you only get one chance at a first impression. Meaning including a glass block accent wall on the façade of your building is a great way to stand-out from the surrounding buildings. Projects such as University of Alabama, Ronald Reagan Airport, and the Willow Hotel utilized glass block to create high-end, exterior accent wall designs with a lasting impression. Adding colored blocks or incorporating a variety of different patterns and textures can take your project to another level.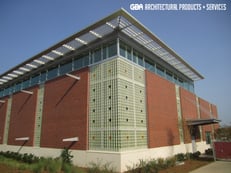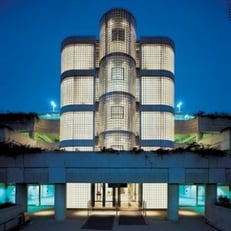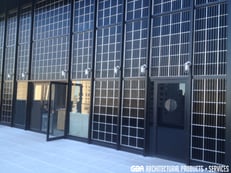 Learn more about other Glass Block Accent Wall project here!
Contact GBA Architectural Products + Services
GBA Architectural Products & Services is a North American supplier of world-class glass block materials for interior and exterior applications. For over 30 years, the company has collaborated with professional builders and homeowners with many unique structural glass products that render beautiful and economical functionality in a broad range of scenarios.
GBA glass block products have been used in office designs, exterior claddings, walkways, and stairways throughout North America to admit natural light while optimizing the use of interior space.
For more information about glass block architecture for offices or other applications, like vault lights, contact GBA Architectural Products & Services.
Visit the GBA website or phone:
Midwest - (877)-280-7700
East Coast - (212)-255-5787
West Coast - (213)-634-7450