Installing Glass Block in Fort Worth's Pioneer Tower
Pioneer Tower
We see a wide variety of glass block projects. We'll often have projects where we install sets of glass block windows that not only enhance the fashion of a building, but also the safety. We renovate sidewalk vault panels to install LED lighting underneath, providing pedestrians with a beautiful lighting to walk on. We've made structures almost entirely built from 4x8x3 Seves Vistabrik, enclosed with glass roofing. There are many different ways to use glass to enhance your facilities.
Our latest project is another example. In their ambitious efforts to transform their structure from great to gorgeous, we're renovating the Pioneer Tower in Fort Worth, Texas, adding 15 flights of exterior glass block to be used on all four sides of the historic building. Behind it will be LED lighting, ready to light the Texas sky.
They do it big in Texas.
History of the Pioneer Tower
The Pioneer Tower was built in 1936, with the design inspired for the Texas Centennial celebration that year. The tower is listed on the National Register of Historic Places. The structure sits as the neighbor of the Will Rogers Memorial Center, an entertainment arena built in the same year, named after the famous actor and columnist from the early 20th century.
Prior to the early 80s, the building had a glass block siding similar to what we're installing now. It filed up as a line of glass going up the center of the building. Ever since they've had a dark gray aluminum grating over the top of it.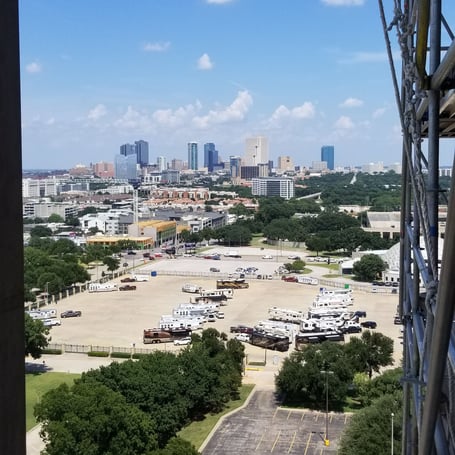 The Manpower
Our team installed the glass block that will be seen from the streets. It takes four weeks of 40 to 50-hour work to accomplish a task like this. While it's an incredible task and definitely a lot of glass (6, 210 pieces of 6x6x4 Argus glass block to be exact), it only takes 4-5 workers to complete a glass project like this.
The total height of the structure is 209 feet. The four vertical walls of glass block start from the 13th floor, and work their way up to the 27th floor.
The biggest challenge for something like this was quite simply bringing up all of the tools and materials, floor by floor, up and away from the ground. The logistics of having everything with such a large structure takes preparation.
It also takes leadership, "Our Project Manager and Superintendent have been super helpful, and have given unlimited amounts of support," stated one of our bricklayers on the assignment.
By the fourth week, it only required about three workers. Things wrap up, and it's on to whatever the next adventure is.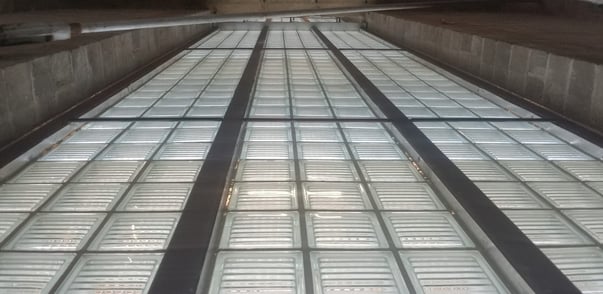 What to Look Forward To
The complete renovation will be set for completion in late-2019. To coincide with the renovated Pioneer Tower will be the newly built Dickies Arena, set to open around the same time; giving the old-fashioned district a new energy.
Glass block is seeing a resurgence. Look for more and more buildings to use it in their endeavors. As Fort Worth has shown, there's just so many ways to make something great go to gorgeous with glass block.
GBA Architectural Products + Services, The Glass Experts
GBA Architectural Products + Services represents many of the world's most important architectural glass manufacturers.
Visit the GBA Architectural Products + Services website to learn more about the excellent contribution that glass products are making to the world of architecture. Request product information on the GBA website by filling out the online form.
Contact GBA Architectural Products + Services for more information about glass architectural products, like glass block pavement lights.
For questions, call the experts at GBA at:
East Coast: (212) 255-5787
Midwest: (877) 280-7700
West Coast: (213) 634-7050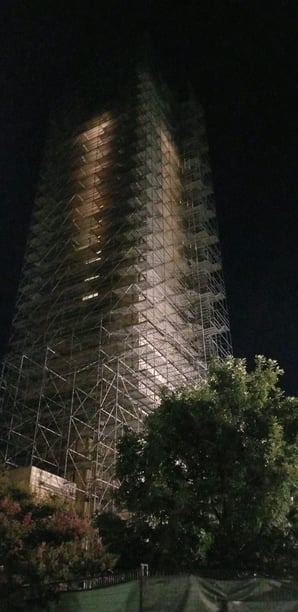 Articles similar to Adding Glass Block to the Fort Worth Skyline (Pioneer Tower):
Restoring Glass Block in Youngstown (Museum)
Historic Glass Block Renovations: Hecht Warehouse
Sources
"Council Green-Lights Pioneer Tower Project at Will Rogers Complex." City of Fort Worth,
Texas, 4 Feb. 2019, fortworthtexas.gov/news/2019/02/Pioneer-Tower-rehab-funding/.
Hendricks, Patricia D and Becky Duval Reese, A Century of Sculpture in Texas: 1889-1989,
Archer M. Huntington Art Gallery, University of Texas at Austin, 1989 pp. 40-41
Staff. "Will Rogers Memorial Center". National Park Service. Retrieved June 7, 2018.