Historic Glass Block Warehouse Renovations: Hecht Warehouse
Architect: Antunovich Associates
General Contractor: McCullough Construction, LLC.
Owner: Douglas Development
---
Hecht Warehouse: The History
Hecht's was one of Washington D.C.'s oldest and most successful large-scale, locally-owned retail store. The department store itself was located on the corner of 7th Street in an "American Gothic" building. Hecht's offered an assortment of goods for their customers. In 1934, Hecht's department store installed the first escalators in Washington. As Hecht's department store continued to grow, taking over most of the block, they sought to move most of its service operations to a new Art Deco building in 1937. This new building became the central warehouse for Hecht's department stores.
The Hecht brand had started to come to an end in 1959 when it merged with the May Department Stores. Subsequently, Hecht's became rebranded as Macy's. After 110 years in Washington the Hecht brand is gone, but their building still stands.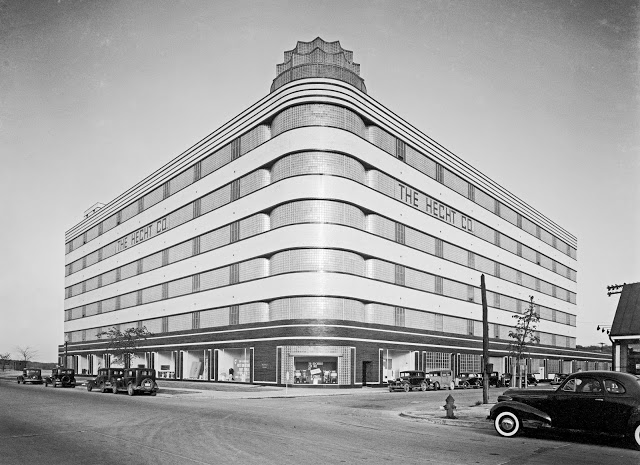 The Glass Block Renovation
The Hecht Warehouse, built in 1937, is a glass block dominant six story building. In 2011, Douglas Jemal, Founder and President of Douglas Development purchased Hecht Warehouse. Redeveloped in 2016, it is now home to 300 apartments, a 900+ parking garage, and 125,000 square feet of retail space. Hecht Warehouse is located on New York Avenue in Washington D.C. On top of this six-story building sits a 12-point star cupola made of glass block that acts as a lantern.



Photo by John DeFerrari
As we embarked on the restoration of the glass block, GBA Architectural Products + Services collaborated with Douglas Development, Antunovich Associates, and McCullough Construction, L.L.C.
In the process of the restoration it was important to maintain the historic integrity of the structure. With this in mind we created a custom glass block to match the already existing glass block. This custom glass block allows natural light into the historic mixed-use building. Almond-Bone mortar, another customized element, was used to seal the blocks together.
Douglas Jamal felt "the expertise of GBA was outstanding, the preparation was spot on, and the installation exceeded all industry standards."
In addition to the glass block renovation we also installed an IBP GlassWalk Structural Glass Bridge. This bridge joins the residential to the retail parts of the building.
Regarding the work GBA Architectural Products + Services completed, Tom McCullough, Founder and President of McCullough Construction L.L.C. said the following:
"GBA provided Preconstruction and Construction services on this 300,000 square foot historic renovation project in NE Washington DC. They were able to take molds from the original glass block and provide a perfect match for the restoration. The procurement of materials was on time and they came under budget. The quality of the workmanship resulted in numerous awards from the National Historic Association........let's fact check the awards!"
Hecht Warehouse: The Final Product
Ultimately, Douglas Jemal was "more than satisfied with the work." In fact, Jemal said he was "very pleased and extremely happy to have chosen GBA for this very vital project."
After the completion of Hecht Warehouse, it was given the Design and Construction award in 2017. This award was presented to Hecht Warehouse by the District of Columbia Awards for Excellence in Historic Preservation.
Ivy City is one of DC's least-known neighborhoods until the redevelopment of the city itself. Today Hecht Warehouse is home to several retail spaces including, but not limited to, Nike, T.J.Maxx, and Target. In addition to all the shopping, there are plenty of restaurants and bars surrounding the area to add to the night life. The authenticity of the building's history remains and continues to grow.
---
GBA Architectural Products

+

Services
We're pleased to announce that we are creating a series. The series will divulge into some of our historic glass block renovations. Be sure to follow us on social media for updates!
Furthermore, if you have a project, we'd love to discuss it with you. Fill out our CONTACT FORM, and we'll help with your plan and offer any samples needed.
About GBA
GBA Architectural Products +
Services has been assisting Architects, Engineers, and Designers for 35 years.
From your initial design concept, through CD's and the finished installation:
we can assist you at every step. Whether you require samples, specifications,
design assistance, or a plan review – We are an email or phone call away.
Our phone numbers to reach our GBA experts are:
Midwest: (877)-280-7700
West Coast: (213)-634-7050