The Finishing Touch on Your Glass Block Project
It is no secret that glass block is a dynamic, adaptable building material that can be used to create everything from desks to partition walls to pet kennels. With hundreds of patterns, shapes and finishes available to designers and architects, the possibilities are virtually endless when working with glass block.
Building professionals know that finishing touches are an essential element of any project. From flooring and window frames to lighting fixtures and paint, finishes give a home or building its defining life and character.
Such is the case with a glass block project. Whether installing windows or partition walls, finishes provide the final touch to any project. Fortunately, a variety of options are available to provide the final touches to any glass block project.
Endblock
Endblock is glass block that is designed with finishes in mind. An endblock is shaped to give a more finished, cohesive look to glass block structures such as partition walls or shower enclosures. A variety of endblock shapes are available to meet the needs of any project.
Linear Endblock
Linear endblock are designed with a round, finished edge that is ideal for jamb top conditions.
Curved Endblock
Curved endblock have a rounded shape that can create a complete finished edge when used with linear endblock.
Cut Corner Endblock
A newer endblock option, cut corner block is created with a 90-degree angle to maintain the continuity of the glass block surface. Cut corner endblock is ideal for creating walls with right angled floor plans.
Glass Caps
Glass caps are small glass tiles that are used on the tops and sides of the tops and sides of glass block to provide a cohesive, all-glass look and feel. The glass caps can be used on the exposed edges of any creation, including partition walls and shower stalls.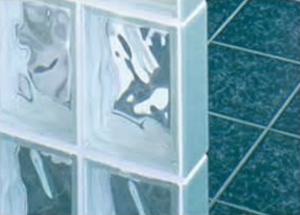 Framing
When creating glass block windows, a variety of options are available for framing. According to doityourself.com, common window framing options include wood, aluminum, and vinyl.
Wood: Wooden window frames are the considered the most classic style but require the most maintenance throughout their lifetime. With an endless variety of woods and stain colors available, they are highly customizable and versatile.
Aluminum: Aluminum window frames are lightweight, durable and strong. They do not absorb water, making them resistant to rusting and rotting.
Vinyl: Low maintenance and durable, vinyl window frames are available in a variety of sizes and styles.
GBA Architectural Products + Services
GBA Architectural Products + Servicesrepresents many of the world's most important architectural glass manufacturers. Suppliers of structural glass, glass block, and LightWise glass systems, GBA also furnishes and installs Composite Concrete and Cast Iron Panels. The professionals at GBA are prepared to collaborate with restoring these essential historical features and can duplicate original designs with the best, most durable, and highly functional vault glass panels.
Visit the GBA Architectural Products + Services website to learn more about the favorable contribution glass products are making to the world of architecture. Request product information on the GBA website by filling out theonline form.
Contact GBA Architectural Products + Services for more information aboutglass architectural products.
For questions, call the experts at GBA at:
Or complete the online questionnaire in the Contact Us section of the website and one of the GBA experts will contact you