Benefits / Business Structure Skylights / Skylight Applications / GBA
When it comes to the purchase of a building, residential or commercial, the space is what draws you in. Glass has the ability to bring light and create a warm sense of openness thanks to its transparency and timeless aesthetic. In many buildings, natural light is limited, which is why home and property owners look to walkable glass skylights and flooring systems for a solution. Walkable glass skylights allow natural light flow into lower areas of your building, creating a beautiful space that feels larger and more open. Here at GBA, our skylights come in both traditional glass as well as walkable sidewalk skylight applications that combine glass pavers with cast iron or concrete.
A major concern when incorporating glass skylights into an outdoor setting is whether or not it is a safe walking surface. We're here to tell you that walkable glass skylights are completely safe for exterior use, as this type of glass is built stronger than traditional window glass. In addition, the incorporation of traction control frits, or anti-slip textures, to the top surface of the glass is what makes the glass safe to walk on. Our structural glass is made of 3-ply laminated glass with each layer strengthened to enhance the structural soundness of the system.
Skylights can be incorporated into a structure in different, creative ways, such as being placed on rooftop decks or pool decks. Each panel is custom-tailored to meet each project's unique requirements. Waterproofing sealant can be incorporated into your skylight to prevent any water from seeping into the levels below to cause damage.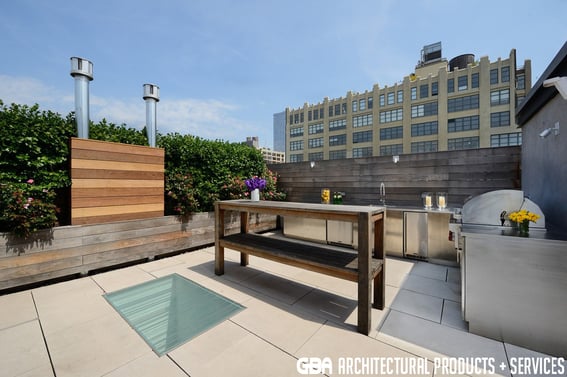 Glass skylights can be used in both interior or exterior applications. Glass panels are finished with an epoxy primer and a high gloss top coat, and the glass available for these skylights can be customized to match the size of any rough opening. Structural glass can be standard glass or low iron (near colorless) glass. Sandblasting the top surface of a skylight can create more privacy without taking away the large amounts of light penetrating through the walkable glass floor system. Anti-slip textures and patterns are also available to make sure your glass skylight is engineered for safety.
Walkable glass skylights are set in a structural metal framework designed to span virtually any opening. There is also the option to cut the glass to accommodate any radius or geometric shape that the project requires. The overall panel thickness and weight will vary depending on the project's design intent, as structural metal framework is custom engineered per each projects' detail. Walkable glass skylights do not just have to be installed on rooftop decks or other similar applications; they can also be installed right in your yard. GBA has even incorporated walkable glass skylights into grass in previous projects! We are here to make your vision a reality.
Benefits of Installing Walkable Glass Skylights
Use as an architectural element to enhance design aesthetics
Create a more open, spacious feeling in any room
Reduced energy use resulting in heating and cooling spending savings
Increased daylighting, a practical feature of this unique floor skylight
Benefits from natural light
Glass skylights blend into surroundings and fit flush with any surface
Slip-resistant and privacy textures
Can be insulated to be waterproof
Ability to create walkable glass skylights of any size
Walkable Skylights in Business Structures
The incorporation of a walkable skylight into a commercial space is a smart investment. Skylights create beauty and freshness in spaces by connecting the exterior space to the inside. Architectural glass features create more appealing environments for customers, thus providing them with a positive and unique experience. Walkable glass skylights do not cause you to lose any square footage, and in fact, they provide the maximum amount of light to traditional dark or artificially lit spaces.
Glass has become a way to modernize any traditional design. So much natural light pours through the large glass skylights making any space appear larger, brighter, and more contemporary. Glass skylights can create a big payoff as they are designed to lower energy costs, as the insulation to the framing perimeter aids in keeping interiors heated and cooled. Office buildings are typically lit by artificial light and some offices may not have access to a window for natural light. With a glass skylight above, not only can you create unique rooftop lounge areas for employees, but you can let the light shine down to places it may never have reached. Walkable glass skylights also radiate interior light out to guests enjoying the rooftop views.
Seamlessly bring the beauty of nature into any commercial or residential space. Walkable glass skylights can create some of the most unique outdoor dining experiences when used for rooftop bar or decks. Natural light will pour down to the interior while the glass glows to the exterior from the excitement below. Frosted or sandblasted glass can provide privacy without compromising the natural light. To maximize the amount of light added, make sure your design team knows your goal. If you're looking to incorporate walkable glass skylights but are not sure where to start, GBA's design team is eager to help design the perfect glass skylight for any project.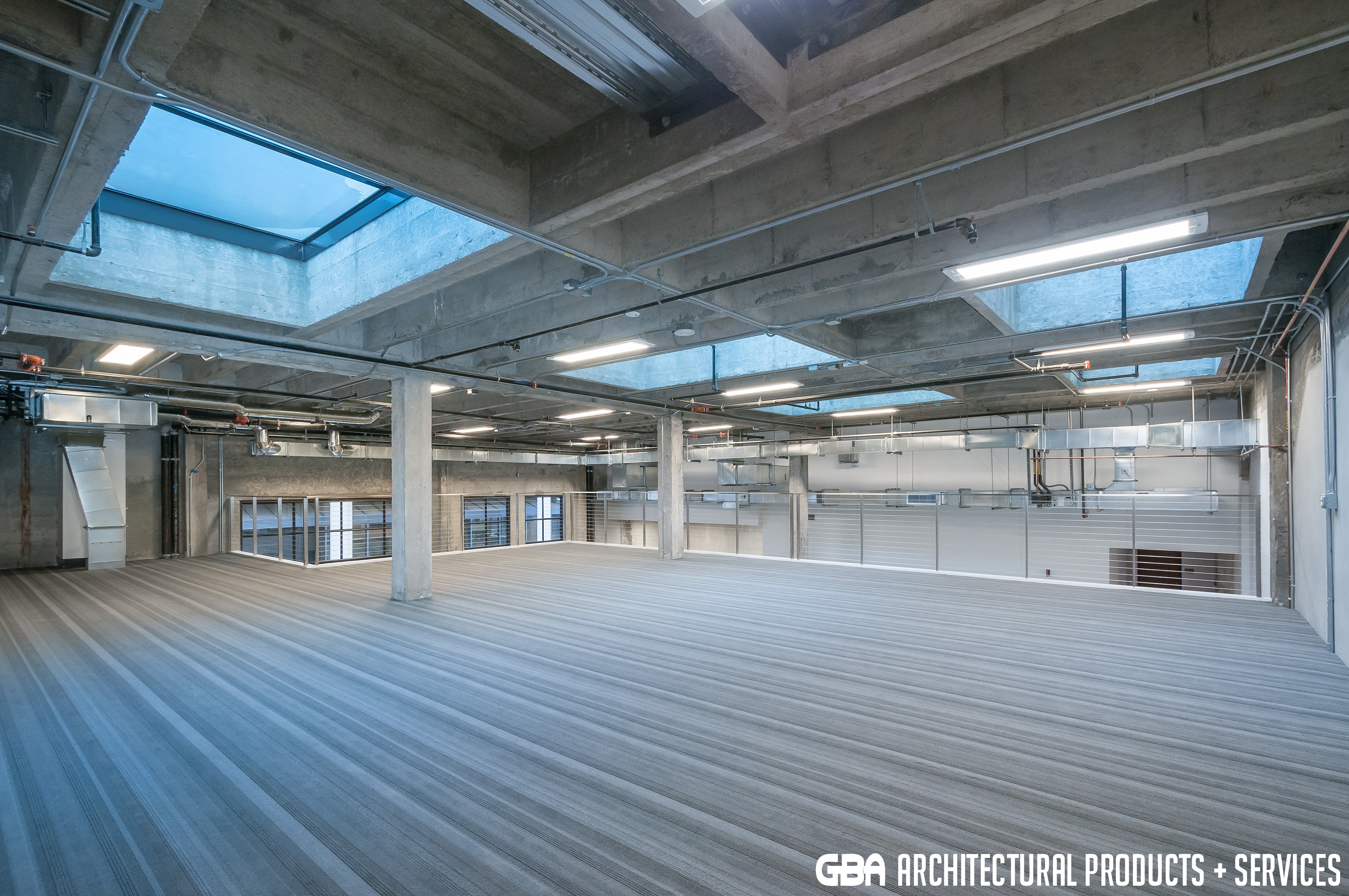 Walkable Skylight Applications +

Features
| | |
| --- | --- |
| Balconies | Deck Lights |
| Bridges | Energy Saving |
| Commercial & Residentials Builds | Terraces |
| Daylighting | Slip Tested |
Glass skylights are the best solution for projects seeking the highest amount of light transmission with maximum glass coverage. Custom glass sizes to be cut to accommodate any geometric shape. Framing for these skylights can be custom painted to match any design goal. GBA is willing to work with you to create the desired structural glass project goal. To customize your walkable skylight even more, the addition of colored interlayers may be used. Etching company logos or other images into the glass may be available. Contact a sales representative today to learn about the custom features of walkable structural glass applications.
Contact GBA Architectural Products + Services
GBA Architectural Products + Services represents many of the world's most important architectural glass manufacturers. We are among the leading suppliers of architectural structural glass, glass block, glass brick, vault light pavers, and LightWise™ glass systems. GBA also furnishes and installs Composite Concrete and Cast Iron Panels, traditionally known as sidewalk vault lights. The professionals at GBA are prepared to collaborate with restoring these essential historical features and can duplicate original designs with the best, most durable, and highly functional vault glass panels.
Visit the GBA Architectural Products + Services website to learn more about the favorable contribution glass products are making to the world of architecture. GBA offers more than just glass block and glass brick solutions; we offer unique architectural statements that are built with luxurious living in mind. Request product information on the GBA website by filling out the online form.
Contact GBA Architectural Products + Services for more information about glass architectural products.
For questions, call the experts at GBA at: