Residential Glass Floor Systems
Glass floors and walkways are becoming increasingly popular among home owners and interior designers. When engineered properly, glass can be strong enough to withstand the weight of a vehicle! Of course structural glass has more benefits than its strength. Glass floors in houses offer a unique accent to any wood, tile, stone, or concrete floor. Whether you construct a mezzanine, a whole floor, or just a corner of the floor with glass it is sure to make your house more appealing and inspiring.
Through the development of technology and building products, GBA utilizes the strongest glass. Glass floors are engineered to withstand heavy foot traffic. Many have the perception that glass floors are brittle and not safe. That is the furthest thing from true. GBA designs structural glass floor systems with perimeter and framing members. The glass is made up of 3 different, yet strong, layers of glass. We even offer a large amount of anti slip textures, as well as the option to sandblast the top layer of glass for added safety and privacy.
Aside from the large amounts of natural light that penetrate through the glass floor system, glass floors offer views to other areas of your home. Planning a hallway that uses glass floor panels is a great way to maximize the light flowing between the different levels of your home. Especially if the hallways is located close to the center of your home, light will flood into all surrounding rooms too!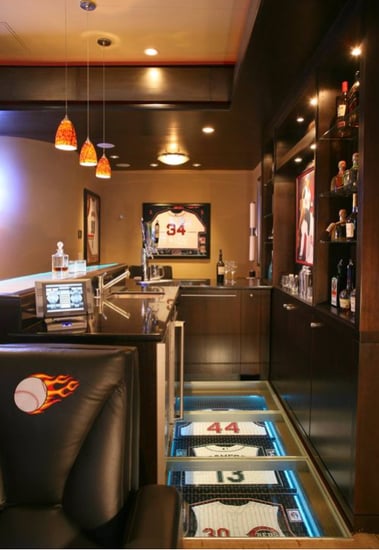 GlassWalk™ Structural Glass Floors
Made with fully tempered 1" laminated structural glass units, GlassWalk™ is the perfect glass floor application to be used in interior applications. The top layer of glass is tempered for strength and is combined with one or more heat-strengthened bottom layers. All layers of the glass panel is bonded with a clear interlayer. GBA ensures that each glass floor is engineered to be safe and support desired weight requirements. To customize your glass floor, color can be added to the interlayers of the glass make up.
Glass features can provide multidirectional sight lines and is a cost effective solution to traditional lighting. Darkened rooms under stairwells can be brightened with the use of a structural glass floor. With the number of people working from home, structural glass floors in any home office can help boost productivity. Natural light can be a mood booster, which is why a window can be found in just about every room.
Framing for this system is designed to fit flush into any surrounding floor surface. Glass floors can be added to any traditional floor surface whether it be hardwood, concrete, carpet, or tile. This pre-engineered systems is completely easy to install. Each piece of the structural floor and framework is cut to each measurement provided by detailed project drawings. When designing a glass floor for your home it is important to have an expert to help make sure buildings codes are met. In addition to making an interesting design statement, glass floors have fire resistant properties.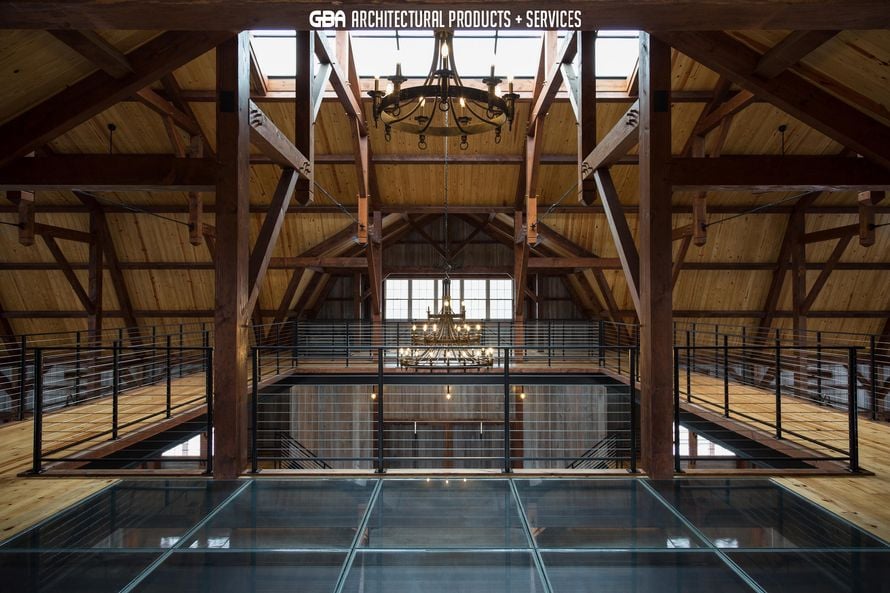 GBA incorporated our GlassWalk™ Structural Glass Floor Systems in this private residence's 'barndominium.'
Create Designs with Glass Floors
Glass floor panels can be combined with LED lighting for a more modern, elegant feel. There is no need to limit yourself on size options for your glass floor. GBA can engineer glass floors of any shape or size and incorporates perimeter and spanning members to support required live loads. Glass is a unique way to incorporate modern design into any home as an architectural element.
Standard glass and low iron glass options are available for this floor system. Typically homeowners prefer the low iron glass option since it is nearly colorless and crystal clear. Standard glass can have a greenish or blue hue to the glass due to the iron levels of the glass. Traction control frits are added to the top surface of the glass. You can also sandblast or frost the top surface of the glass for added privacy where needed. The anti-slip traction control frits also provide a level of privacy to the glass. Special inks can be applied to the surface of the glass to produce various images in your glass. Art glass floor tiles can be created for additional pricing. Images, logos, or even family crests can be etched into the interlayers of the glass floor panels.
By properly ventilating the area under the glass, aquariums can be placed under the glass. In some cases, small artificial ponds can be created by fully or partially covering it with glass panels. This can create a unique focal point and impressive floor design to any interior home. Glass floors can be used to show case memorabilia such as sports jerseys or to display wine cellars below. Any room can be elevated with the use of a structural glass floor. It is important to note that GBA's structural glass floor systems are fire resistant in certain applications. To learn more about the fire resistant properties of glass floors, please contact someone from the GBA sales team.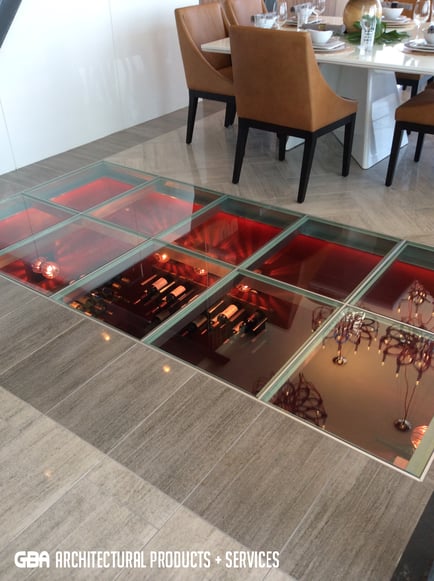 Benefits of Glass Floors in Houses
Designed to span across any distance
Low maintenance and easy to clean
Installation is easy to complete
Slip-resistant top glass surface
Cost effective
Increased amounts of natural light
Visually stunning, "wow" feature
Customize glass by creating any shape
Glass floor panels can be custom cut to match any sized opening
Glass floor tiles can be used to expose historic parts of your home or used to showcase historic artifacts. For example, historic mosaic floor tiles could be placed below a structural glass floor system to create the illusion of walking down history. In commercial applications such as the historic Main Street Station, structural glass was used to display old railroad tracks below the station.
Contact GBA Architectural Products + Services
Check out our website GBA Architectural Products + Services for new ideas regarding the installation of durable glass components in your new construction or remodel project.
GBA is a proud partner of many prestigious historic renovation projects as well. With our large supply of glass block and structural glass products, we take pride in being able to match or create a glass block to resemble the original design intent. We are constantly completing new, unique glass design projects and adding them to our Project Inspiration page to inspire any architect, contractor, home-owner, designers, or engineer.
GBA Architectural Products + Services is a supplier of all types of architectural glass and glass block products for interior and exterior applications. As the owner and certified installer of GlassWalk™ Structural Glass Floor Systems, GBA provides innovative and earth-friendly products for aesthetic and functional designs. GBA has supplied and installed hundreds of creative glass walkways, glass decks, glass bridges, and glass staircase systems in every part of the United States.
GBA Architectural Products + Services installs glass paver vault lights, stairways, structural glass floors and bridges, glass stair treads, deck glass, vaulted sidewalks and even walkable skylights. GBA is also an installer of glass block applications ranging from glass block pavers to glass block systems engineered for security and detention centers, hurricane resistance, fire resistance, blast resistance, and even tornado resistance.
To discuss the possibility and advantages of incorporating GBA Structural Glass flooring or floating stair treads into your new construction or a remodel, contact one of the three numbers listed below or fill out our contact form.