Creating an Outdoor Glass Deck Floor
Glass Deck Panels / Maintaining a Glass Deck / GBA
Creating an exterior deck made of glass sounds daunting, as there are so many different flooring types to choose from. After all, a glass deck is a great opportunity for complete customization. While some homeowners want their deck to be private, others may opt for a bright space fit for entertaining.
In addition, a lot of people worry about the safety and durability of the glass when exposed to the elements. Not only can GBA's structural glass be used for decks but our glass stair treads also have the option to be used outdoors. Using a combination of glass and aluminum framing, our glass floors are engineered to be structurally sound glass flooring systems. Glass decks offer the versatility of a structural glass floor while elevating the outdoor experience.
Glass decks can be made with standard glass, which has a slightly green/blue, or low iron glass, which is nearly colorless. Glass frits can be added to the top surface of the glass for additional privacy as well. If you plan to utilize your glass deck for hosting parties or gatherings, consider how transparent the glass should be. Sandblasting the surface will alter the transparency to see through as little or as much of the glass as you would like. Even though the glass may need to be more private, large amounts of natural light will still pour through, because our panels are designed this way so our customers can enjoy privacy and natural sunlight. Outdoor glass decks can be combined with our structural glass stair treads for an added "wow" factor to any architectural landscape design.
Glass Deck Panels
All glass deck panels are custom engineered for the needs of each project. Backyards are a great space for entertaining and allow homeowners to get creative. Glass decking is a great way to add an elevated design to any backyard patio area, and deck glass can even be customized to fit required building codes. All you have to do is choose the size and dimensions of your glass deck, and let our team construct the design of your dreams.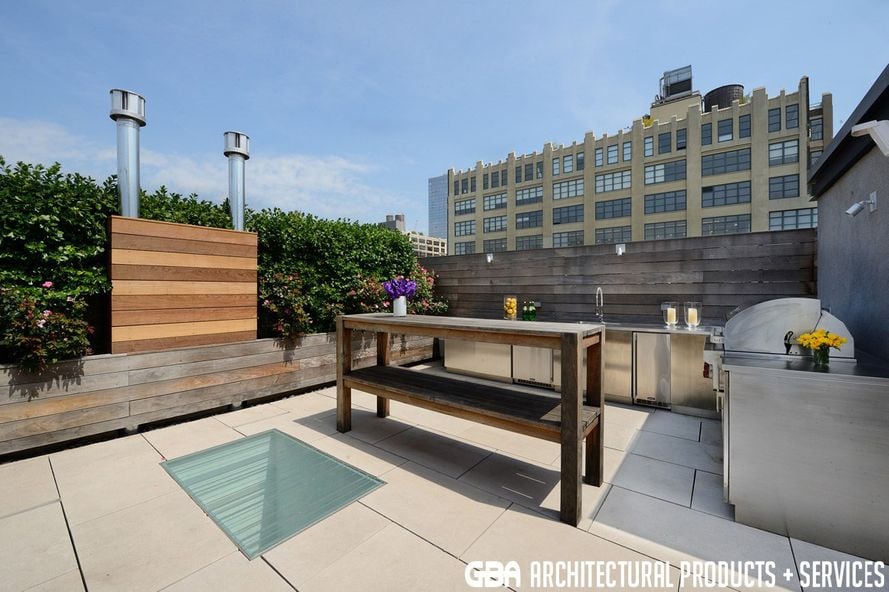 Now you may be thinking: how can I use glass floor panels for my deck that sits directly above dirt? For decks like this, we suggest highlight nature. By placing decorative rocks or stones under the glass you can create a beautiful, peaceful scene under your glass deck panels. In certain circumstances, aquariums can be placed below glass flooring with proper ventilation. Still water ponds can be incorporated under structural glass as well. To create a pond or nature scene under your glass floor, contact an expert for their opinion on how to incorporate this idea into any living space.
The possibilities for glass decks are truly endless. LED lighting can be incorporated into the glass flooring system to create outdoor ambiance like you never thought was possible. Light will not only radiate up through the glass, but down to lower levels. Outdoor decks can be constructed similar to a walkable skylight, giving sight lines to basement areas, or as a balcony attached to a building. Structural glass is even capable of handling the weight of a car. In some architectural applications, you can fully drive on or park your car on our structural glass systems that are designed for high impact loads. The glass is engineered and set into an integral framework designed to support any weight.
GBA has two structural glass floor systems which can be used in outdoor decking plans. Depending on the application and goals, we are sure to have the perfect glass flooring system to create a breathtaking outdoor glass deck. When it comes to building a glass deck, one thing to consider is whether the glass deck should be waterproofed or not. Just like with a home, waterproofing adds an additional cost. Waterproofing can be vital to any glass deck flooring that is incorporated into the ground similar to a walkable glass skylight. Any of GBA's sale associates are qualified to assist in helping determine the necessary waterproofing needs for your project.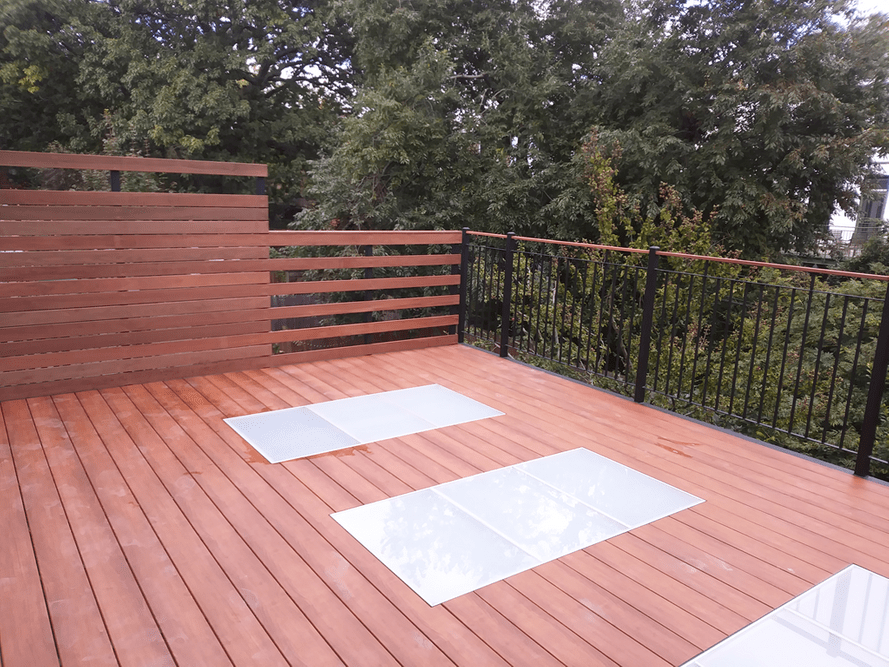 Maintaining a Glass Deck
Glass decks should be cleaned with a high-quality glass cleaner that will not leave behind streaks. Be sure to use a lint-free cloth or mop to wipe the top surface of the glass. Despite their fragile look, outdoor glass decking can handle weights up to 100 pounds per square foot. It is important to note that the surface of the glass itself is not scratch-proof, so use caution when moving furniture to prevent damage. Adding anti-slip textures to the top surface of the glass can actually help to prevent some scratching and also blend in any blemishes that occur to the glass surface over time. Like any material on the exterior of your home, it is important to keep up with maintenance to prolong the lifespan of the product.
Contact GBA Architectural Products + Services
Check out our website GBA Architectural Products + Services for new ideas regarding the installation of durable, walkable glass structural components in your new construction or remodel project. Our experts are ready to work on any project design and find the right architectural feature piece to add to your project.
GBA Architectural Products + Services is a supplier of all types of architectural glass, glass block, and glass brick products for interior and exterior applications. As the owner and certified installer of GlassWalk™ Structural Glass Floor Systems, formerly IBP GlassWalk, GBA provides innovative and earth-friendly products for aesthetic and functional designs. GBA has supplied and installed hundreds of creative glass walkways, glass decks, glass bridges, and glass staircase systems in every part of the United States.
GBA Architectural Products + Services installs and repairs vault lights with glass pavers, stairways, structural glass floors and bridges, glass stair treads, deck glass, vaulted sidewalks and even walkable skylights. GBA is also an installer of glass block applications ranging from glass block pavers to glass block systems engineered for security and detention centers, hurricane resistance, fire resistance, blast resistance, and even tornado resistance. More recently GBA has added a new mortarless glass block or glass brick wall system to help designers and architects put the "wow" factor in their interior or exterior wall designs.
To discuss the possibility and advantages of incorporating GBA Structural Glass flooring or glass stair treads into your new construction or a remodel, contact one of the three numbers listed below or fill out our contact form.