The Advantages of Letting the Light Shine Through in Offices
As the demands of business change, so do office building designs. Decades ago, companies virtually "corralled" their office workers into cubicles and offices with opaque walls to deter interruption and distraction.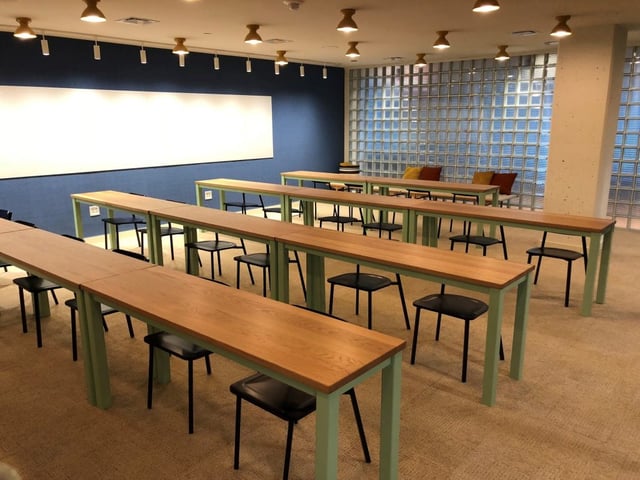 In recent years, the pendulum swung toward "open office" designs meant to encourage teamwork and communication. Unfortunately, according to a recent Harvard Study summarized on the Inc. website, the open-air concept stifled collaboration and discouraged face-to-face dialogue. Personal interaction dropped as emails and text messages rose. Management reported that overall productivity fell when the spatial boundaries were removed.
Furthermore, open office spaces are fraught with distractions and the potential for spreading communicable diseases.
So, what design solution can offer privacy without making workers feel confined and isolated?
Providing Privacy Without Confinement
While in the past, openness and availability of natural light were not considered essential, studies show that productivity increases with the incorporation of more exterior windows and interior glass block partitions.
The benefits of natural light in offices are well documented. According to a Psychology Today article, office workers deprived of sunlight and subjected only to fluorescent lighting experience adverse impacts on their sleep, activity, and quality of life as a result of interruptions in normal circadian rhythms. Studies conducted by Northwestern University's Interdepartmental Neuroscience program found that workers deprived of natural light during the day experienced lower sleep quality, more sleep disturbance, and more daytime dysfunction than those who were exposed to more natural light.
Other studies have shown that productivity increases as office workers are exposed to more natural light. A September 2018 Harvard Business Review article identifies natural light and a view of the outdoors as the most important single attribute of a workplace environment, outdistancing perks like fitness centers, cafeterias, and childcare.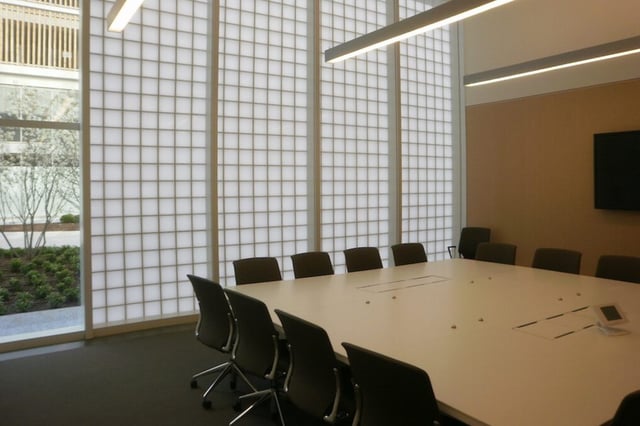 Glass Block in Offices
A notable solution is to create an environment where natural light is generously admitted and allowed to flow freely into enclosed spaces. The determination is that glass block can be ideal for enhancing productivity and employee satisfaction.
Architects recognize the healthful benefits of natural light in the workplace and are including modern glass block and brick into the exteriors and interior walls of their creations. Glass block facades in many award-winning structures around the world incorporate well-lighted workplaces with dramatic energy savings, space efficiency, and stunning beauty.
Similarly, conventional buildings are being built and retrofitted with more windows along with interior walls, partitions, walkways, and staircases that admit natural light. All interior spaces are flooded with natural light during the day, creating a comfortable outdoor feeling in every interior workspace.
Ideal Office Settings
WHY Magazine presents aHerman Miller listing of ten different office concept designs, each with a different function, that provide the perfect compromise between an entirely open office concept and traditional private offices. Office spaces permit individual privacy while other settings are conducive to group collaboration. Most designs employ glass or glass block to define the specific areas while creating a sound-proof space that will not disturb other workers.
Glass Block Can Be Soundproof, Private, and Energy Efficient
Glass block is available in a range of thicknesses and degrees of transparency to muffle sound while adding the degree of privacy needed. The material is perfect for cubicle walls, partitions, front desks, and individual office spaces.
As glass block allows natural light to enter and pass through individual offices and shared workspaces, the need for artificial light is reduced. In a large office environment, the energy savings can be significant.
Moreover, of course, workers will be more comfortable and productive.
Contact GBA for More Information About Glass Block for Offices
Are you looking to add glass block in your next office project? Looking to add more natural daylight in your office?
GBA Architectural Products & Services is a North American supplier of world-class glass block materials for interior and exterior applications. For over 30 years, the company has collaborated with professional builders and homeowners with many unique structural glass products that render beautiful and economical functionality in a broad range of scenarios.
GBA glass block products have been used in office designs, exterior claddings, walkways, and stairways throughout North America to admit natural light while optimizing the use of interior space.
For more information about glass block architecture for offices or other applications, contact GBA Architectural Products & Services.
Visit the GBA website or phone: