Create a Brighter Space with GBA Structural Glass Flooring
Glass may look delicate, but GBA Structural Glass for walkways and stairs is rugged and durable, capable of handling weight and impact just as well as any other building material. The effect of glass walkways and stairs is both dramatic and elegant, allowing light into otherwise dark areas and creating interesting visual effects within the space. We can customize glass flooring designs to meet any requirement with our Structural Glass flooring.
Whether in an office, retail establishment, or home, GBA Structural Glass flooring, glass walkways, and stairways add to the interest and appeal of the interior. All while reducing the energy and artificial lighting needed to illuminate a building.
Glass flooring and stairs are also fire-rated, capable of compartmentalizing and stopping the spread of an existing fire. This characteristic alone can be a compelling motivation for implementing glass flooring and stairs in any building.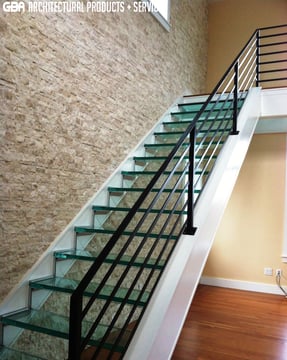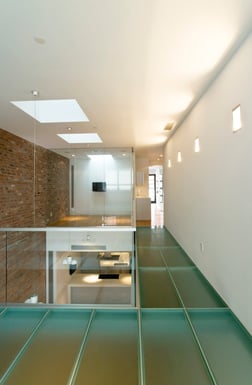 Growing Use of GBA Structural Glass Flooring
More designers and architects today are incorporating glass as an ideal replacement for wood or concrete. As a true innovator in the architectural glass industry, we offers impact-resistant glass and laminates for walkways and stairways that have equal or greater strength than more typical materials.
Throughout the world, building architects are incorporating more new and unique glass features in their building designs. Glass elements admit natural light, enhance the sense of space, and create an ever-changing interior and exterior visual effect within the structure. Glass for exterior cladding and interior walls and floors are principal components of several award-winning and instantly recognizable buildings.
Glass features add brilliance, clean angles, a sense of space, and can provide multi-directional sightlines.
Darkened rooms and nooks under walkways and stairwells, for example, are brightened when strong, lightweight structural glass is used for floor systems and stair steps. Often designers opt to bring light to a lower level by incorporating a circular, rectangular or other glass floor section to the flooring above. These provide a natural "skylight" effect to rooms and areas, especially below ground level.
Benefits of Structural Glass Flooring
Durable glass flooring systems bring a unique and effective way to add a pedestrian walkway without leaving a dark space beneath what must usually be artificially lit. IBP GlassWalk SG Systems eliminate this challenge by providing a sturdy transparent or translucent walkway made up of specially treated glass panels mounted in precision engineered, custom-manufactured aluminum grids. The aluminum grids are available in multiple colors to match your preference. The tempered glass panels for IBP GlassWalk flooring are available in 12" squares to 48" and come in a variety of custom styles and shapes. Metal framing is designed specifically for each size of glass panel.
In addition to lowering energy costs by reducing the number of light sources required, GBA Structural Glass flooring also acts as an insulator, much like insulating windows, to maintain constant temperatures within the building areas. Glass flooring also muffles sound better than metal or wood.
The glass panels can be custom designed to any degree of transparency or privacy that you may desire.
Further, the grid system is produced with 25% post-consumer recycled content which makes them compatible with green building standards.
GBA GlassWalk SG Systems
GBA GlassWalk Structural Glass Systems are 3-ply units supported by robust, modular aluminum grid systems. These systems are durable and lightweight, easy to install, and have been proven in hundreds of applications.
Most importantly, the finished glass and metal structure meet all building code standards for impact-resistance and strength. GBA Structural Glass Flooring is also fire-rated, adding a vital safety element to the building design.
We will ship all components of the project as a complete kit for ease of installation.
Stair Treading and Slip Resistance
Glass stair steps may be up to 48" wide and still require only two-point support. The three-ply stair treads are 1.245" thick. Stair units are set into aluminum support brackets with mounting screws that are not visible, allowing for a clean, unobtrusive appearance. IBP also produces the glass panels and aluminum supports and hardware for landings to complete the job.
To create a textured, non-slip surface for walking on both glass floor surfaces and stairways, GBA infuses ceramic-based frits that are embedded into the surface and form a granular texture to eliminate slipping. Alternatively, we can apply an acid that etches a non-slip texture into the glass surface.
Contact GBA Architectural Products + Services
Check out the website of GBA Architectural Products + Services for new ideas regarding the installation of durable glass components in your new construction or remodel project.
GBA Architectural Products + Services is a supplier of all types of architectural glass and glass block products for interior and exterior applications. As a distributor for IBP GlassWalk products, GBA provides innovative and earth-friendly products for aesthetic and functional designs. GBA has supplied and installed hundreds of creative glass walkway systems in every part of the United States.
GBA Architectural Products + Services install glass pavers, stairways, structural glass floors and bridges, stair treads, and even walkable skylights.
To discuss the possibility and advantages of incorporating GBA Structural Glass flooring into your new construction or a remodel, contact one of the three numbers listed below.