Glass Block Renovations
There are so many reasons why an architect, home owner, or designer would choose glass block for a project. Glass block offers a beautiful, clean aesthetic while being affordable. Another reason to incorporate glass block is to replace any existing glass block. When it comes to glass block replacement, GBA is renowned for our remediation expertise and ability to match the existing glass block.
Glass block replacement has been most common in historic commercial buildings. As of 2020, more than 96,000 properties had been listed on the National Register of Historic Places. The National Register is an official list of properties, structures, objects, etc., that have significance to either the state it is located in or the nation. Historic buildings may have federal, state, or local preservation laws that need to be abided by when starting any renovation.
Glass Block Remediation at Historic New York Hospital
New York's "T-Building", formerly Triboro Hospital for Tuberculous in Queens, recently underwent a $111 million remediation and renovation project. The original building was completed in 1941, the goal of this project was to transform the 10-story Art Moderne-style building into an affordable housing for low- and middle-income residents. The New York City Department of Housing Preservation and Development awarded a lease to the developer, Dunn Development Corp., which began the renovation. The developers were required to maintain historically significant architectural elements of the building since they had received state and federal historic tax credits. Part of this restoration project included restoring the old glass block windows and replacing them with an exact match. GBA has worked on numerous historic glass block remediation projects making us the perfect partner for this project.
Collaboration on the glass block renovation started when the contractor, Mega Construction, reached out to review the scope of work. Mega Construction is a renowned renovation contractor which GBA has previously worked with on renovation projects with. The scope of work included replacing approximately 15-20% of the glass block, repoint all mortar joints, install new glass block, and seal exterior mortar joints. While there was a decent amount of compromised glass blocks, it was not significant enough to call for a complete demo and renovation of the glass block windows. It was common for buildings being built during this time to incorporate glass block windows.
The original design of the T-Building had multiple large glass block windows in the entrance on the first floor. To complete the remediation, GBA sourced vintage blocks from our own inventory which matched the original glass block. With our large inventory of new and out of production glass block and network of partners, we were able to find a match for the existing glass block. In previous historic glass restoration projects, we have gone as far as having a mold made to re-manufacture any glass block design. In addition to finding a glass block match, GBA also scraped out, replaced, and sealed all of the mortar between the glass block.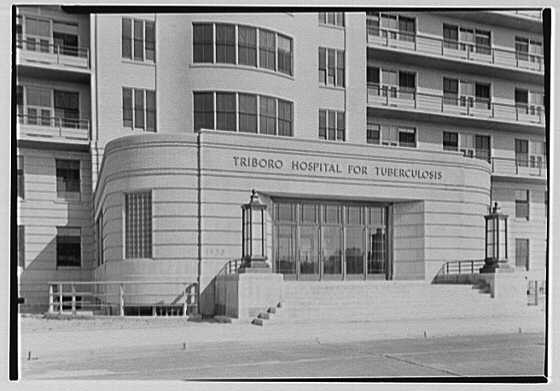 Photo from Library of Congress
GBA Installation Services
A team of experienced and trained workers was sent to the "T-Building" to complete the remediation work. It was important for the crew to be knowledgeable in glass block remediation as it is vital not to damage any of the existing glass block system. Since this was a smaller renovation project for our team, there were not too many challenges during the process. We were able to find a mortar and glass block that matched the existing design which can be one of the more difficult aspects of historic glass renovation projects. The effect and benefit of the glass block in the renovation remains the same as in the original design - durability, light transmission, and privacy. Glass block is a functional product that is able to withstand the test of time.
Our approach for glass block renovation is different from installing glass block windows into any new construction. There is more uncertainty with renovation because we need to determine why the existing glass block system has failed and if any structural damage has been done to the system (i.e. deteriorating panel anchors or reinforcing wire). If the cause is strictly lack of maintenance and no structural damage has been found in the glass block system, then the remediation work is made easier. There is no other companies that strictly do glass block or that specialize glass block renovation projects of any size. GBA remains the largest installer of glass block in the country and carries the largest inventory of new and out of production glass block. Reach out to one of our glass block experts about your new construction or renovation project today!