Historic Glass Block Renovations: Knapp's Centre
---
Owner: The Eyde Company
Architect: Quinn Evans Architects
General Contractor: Granger Construction
Mason: Schiffer Mason Contractors, Inc.
---
Knapp's Centre: The History
So many of the buildings we drive past have a history explaining why they were built and what they came to be. Knapp's Centre is one of those historic buildings, built in 1937 as a home for the main department store J.W. Knapp Company in Lansing, Michigan. The 190,000 square foot building was constructed using alternating bands of yellow macotta and prismatic glass block. At the time Knapp's was built, it was known to be one of the most modern building's in the Midwest.
In 1983 the building was listed on the National Register of Historic Places and was purchased by George and Louis Eyde. Knapp's interior was modified to office and retail spaces, but the exterior was left unchanged. Knapp's was home to restaurants, a design studio, and even an art gallery before the State of Michigan became the primary tenant through the early 2000s.
"There came a point where the building either needed to be restored, redeveloped or torn down," said Mark Clouse, Chief Financial Officer of The Eyde Company. "The exterior of the building became problematic."
It wasn't until 2010 that it was announced that Knapp's would be redeveloped.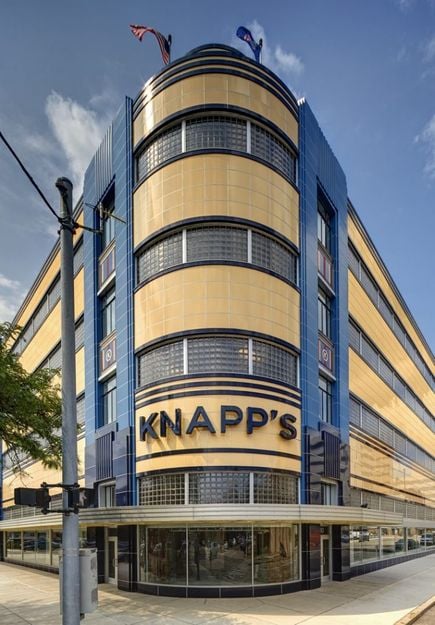 The Glass Block Renovation
Elisabeth Knibbe, Principal Emeritus of Quinn Evans Architects, told us "the original glass block was installed in the 30s and 40s in two different phases." This block was manufactured in 2 pieces and sealed with a lead seal. It was obvious the lead seals were failing as there was water discoloration inside the glass block. The glass block damage was irreparable. In addition, the original block was prismatic which was very effective in directing sunlight into the retail space, but effectively block the view out.
"The prismatic block had great value for retail use, not for the office use," said Clouse. "Lis' plan was to raise the floors so a person can look out the glass block, so she proposed the use of clear block." Since the building was historic, the National Park Services (NPS) needed proof that the use of clear block would not change the essential character of the historic facade.
NPS needed to see how the new clear blocks would look in the building. GBA Architectural Products + Services assisted Quinn Evans in creating two mock-ups to convince NPS to approve the clear pattern. GBA was also able to provide window panels, to convince the State of Michigan and National Park Services that the use of clear block would not alter the appearance of the building.
After some struggle, the glass block was updated from original prismatic glass block to clear glass block. GBA installed 12,000 pieces of Pittsburgh Corning Vue glass block. This update allows tenants to see out of the glass. The Knapp's building has not fundamentally changed, rather it was updated to accommodate the new use of the building.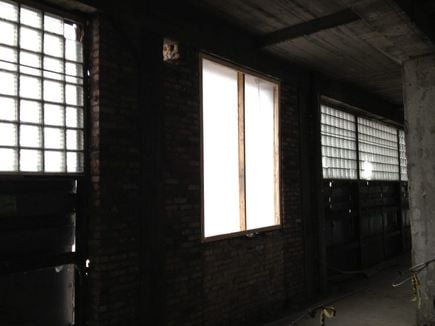 Knapp's Centre: The Final Product
The construction of the historical Knapp's Centre was completed in 2014.
"It is a project we are extremely proud of," said Clouse, "we are thrilled to have our offices there."
The Eyde brothers are some of the first "recycler's" of buildings. George (1935-2017) and Louis Eyde have a great appreciation for buildings that people think "it's time to get rid of." The Eyde Brothers were able to restore the whole building, instead of tearing it down. To this day, the National Parks Service still uses Knapp's building as an example of a how to complete a Historical Preservation Tax Credit Project for a 20th century building.
Knapp's Centre is located in Downtown Lansing, within walking distance to the Michigan State Capitol as well as Davenport University. The main entry is on West Washtenaw Street, where you walk into the lobby with it's original flooring and Art Moderne stairwell to the mezzanine level. In addition, a history wall was installed to display photos of the building through time. Knapp's is known as the finest intact example of a Streamline Art Moderne commercial building in the Midwest.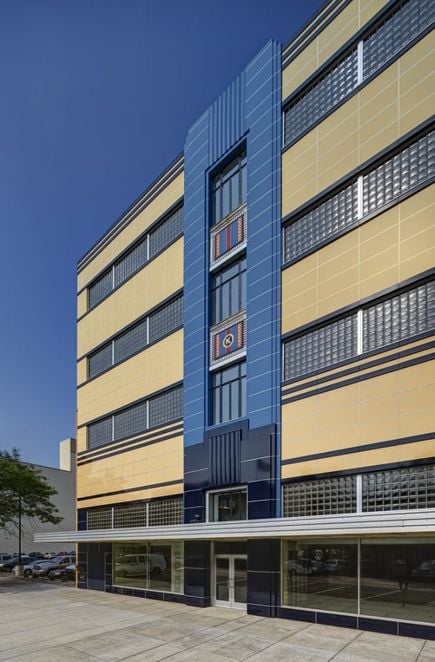 This Art Moderne building is a mixed-use building for office space, retail shops, as well as residential living. There is available space in Knapp's that The Eyde Company is looking to fill. Don't miss your chance to let your business live in this beautiful building!
Knapp's Centre is a building where "I walk in every day, I smile about it, I'm proud of it, and I love to have people come and see it," Clouse said.
"We have hosted events for the Michigan Historic Preservation Network, and will continue to do that to promote the concept of restoring older buildings to make them useful and important to the community."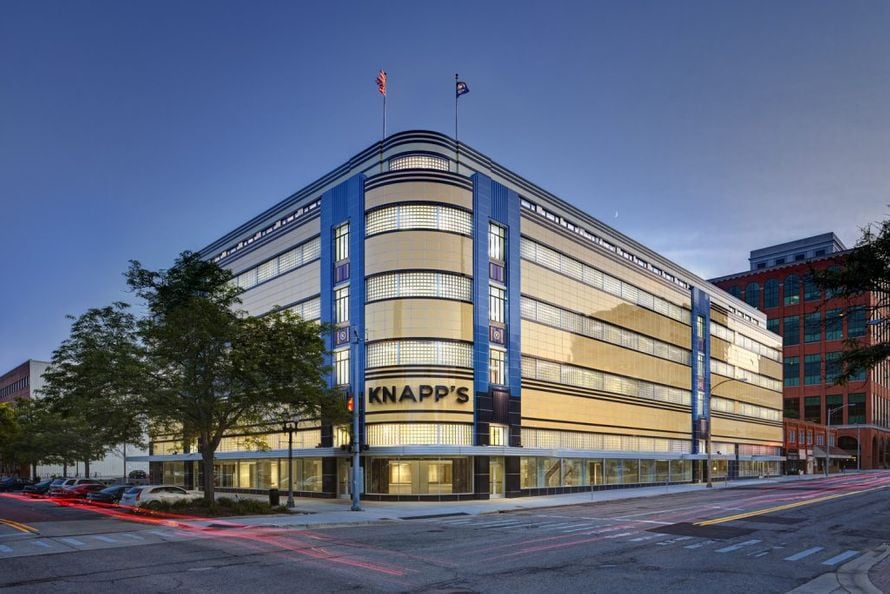 GBA Architectural Products
+

Services

We're pleased to announce that we are creating a series. The series will divulge into some of our historic glass block renovations. Be sure to follow us on social media for updates!

Did you miss the first Historic Glass Block Renovation post? Read about how we helped to transform and restore the beautiful Hecht Warehouse!

Furthermore, if you have a project, we'd love to discuss it with you. Fill out our contact form and we'll help with your plan and offer any samples needed.




About GBA
GBA Architectural Products + Services has been assisting Architects, Engineers, and Designers for 35 years. From your initial design concept, through CD's and the finished installation: we can assist you at every step. Whether you require samples, specifications, design assistance, or a plan review – We are an email or phone call away.
Our phone numbers to reach our GBA experts are:
Midwest: (877)-280-7700
West Coast: (213)-634-7050
East Coast: (212)-255-5787
sales@gbaproducts.com